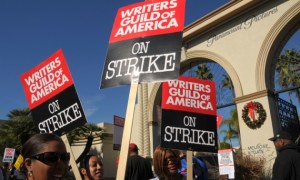 After ABC started cutting writer deals on Friday, Warner Bros. TV, CBS Paramount Network TV, Universal Media Studios and 20th Century Fox have fallen in line, slashing writers and producers from their rosters, according to Variety.
The WGA reacted strongly to the studios' moves, saying the AMPTP members were "alienating the very creative force that has made entertainment one of the most successful businesses in the country."
While most major showrunners have been spared the ax — so far — the list of names cut included many well-known names in the biz, from Barbara Hall ("Joan of Arcadia") to Barry Schindel ("Numbers").
At 20th, about 15 pacts have been shed, while insiders describe the Warner Bros. cuts as fewer than a half-dozen so far. CBS Par has also trimmed roughly 15 deals (though it has a much smaller roster from which to cut), and it's believed UMS has so far let go some 10 writer-producers.
ABC Studios began the bloodletting Friday by slashing more than two dozen deals.