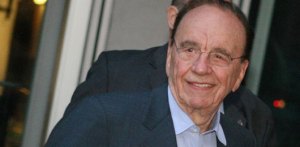 Rupert Murdoch said in Switzerland today what he has been threatening for a couple of weeks: WSJ.com isn't going free—in fact, it may get more expensive.
"We are going to greatly expand and improve the free part of the Wall Street Journal online, but there will still be a strong offering" for subscribers, Mr. Murdoch said. "The really special things will still be a subscription service, and, sorry to tell you, probably more expensive."
The Observer reported two weeks ago that Mr. Murdoch was backing off his original claim that WSJ.com would be available free to "every corner of the world." He told Journal bureau chiefs at a meeting on Jan. 9 that it was a more complicated equation than he originally believed, and it needed further study.
Dow Jones executives predicted this, as well. After Mr. Murdoch said he'd make WSJ.com free back in November, Michael Rooney, a Dow Jones senior vice president, said, "It is jumping the gun, people are jumping to conclusions here very quickly."