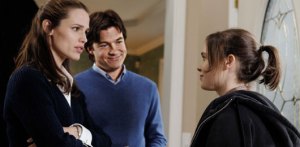 The 80th Annual Academy Award nominations have recently been announced amid the usual mix of old and new uncertainties and anxieties. After the political pollsters and pundits bombed out in foretelling the New Hampshire Democratic primary results, it is certainly a calculated risk on the part of this self-ordained prophet to predict this year's Oscar winners at this early date. For one thing, the writer's strike and the resultant picketing have paralyzed the publicity machines of the various studios and distributors, not to mention all the stymied personal publicists of the Oscar candidates. Then again, the Academy's preference for critical ratings over box office success has created more flux than ever this year, a situation in which Academy voters, and certainly most prospective television viewers, may not have seen all the picture and performing nominees. So much gloom and doom, and so little hope and joy. Perhaps this is the prevailing mood of the general public in these chaotic times, but the Great Depression and World War II were no picnics either, and movies managed to be cheerful and optimistic enough to lift a nation's spirits, especially in the Academy Award season. But enough of my advance alibis for my very possible failure to pick all the Oscar winners. All I ask of my readers is that they not bet their rent or mortgage money on my presumed perspicacity or that of my crystal ball.
For best film I am going out on a limb to predict Juno as the winner over Atonement, Michael Clayton, No Country for Old Men, and There Will Be Blood. My reasons for this selection are, as usual, very convoluted. I'd like to think that my choice had nothing to do with my own enthusiasm for this work, which I picked as the top English-language film of the year. I simply have a hunch that Juno is this year's Little Miss Sunshine, which many people have regretted retroactively for its losing to The Departed last year, in a burst of unexpected redemption for Martin Scorsese, whom the Academy had denied repeatedly in the past. By the same token, since the noirish Departed won last year, the equally noirish Michael Clayton may have a harder time this year because of its genre, despite the Academy's proven affection for George Clooney.
Atonement, No Country for Old Men, and There Will Be Blood have each won more than their share of critical superlatives and pre-Oscar awards, but the way I figure it, Atonement may be too British for this year's Academy voters, and No Country for Old Men and There Will Be Blood may be competing with each other for the same elitist downbeat votes.
For best actress I am going out on an even longer limb in picking Ellen Page over the logical favorite, Julie Christie, whom I have admired and adored since Billy Liar (1963). But almost nobody has seen her vehicle, Away From Her, compared to all the people who have seen Juno. Ms. Page and Ms. Christie get their stiffest competition from Marion Cotillard for her ugly-makeup triumph as Edith Piaf in La Vie en Rose. Laura Linney in The Savages provides an Oscar-worthy performance in an unfairly neglected film. Cate Blanchett, nominated for her lead performance in Elizabeth: The Golden Age and for her supporting turn in I'm Not There, becomes only the 11th performer in Oscar history to be nominated in both the lead and the supporting categories, joining such actors as Fay Bainter, nominated in 1938 for White Banners and Jezebel; Teresa Wright in 1942, for Pride of the Yankees and Mrs. Miniver; and, more recently, Al Pacino in 1992, for Scent of a Woman and Glengarry Glen Ross. Both Ms. Bainter and Ms. Wright won their Oscars in the supporting category and lost out to Bette Davis (for Jezebel) and Greer Garson (for Miniver), respectively, in the lead category. Actually, I think Ms. Blanchett has a better chance for her transvestite impersonation of Bob Dylan in I'm Not There over Tilda Swinton in Michael Clayton, Amy Ryan in Gone Baby, Gone, Ruby Dee in American Gangster and Saoirse Ronan in Atonement—all excellent actresses giving exemplary performances in comparatively straight roles.
The tightest and most uncertain contest will be for best actor, between George Clooney in Michael Clayton and Daniel Day-Lewis in There Will Be Blood. It will be a battle between a Hollywood superstar with a public service résumé and an international maverick with a reputation for irascibility. It is also a battle between a sympathetic underdog character and an unsympathetic capitalist bully. It would be no contest in Oscar terms if it were not for the support Mr. Day-Lewis has received from the most influential critics. Johnny Depp in Sweeney Todd: The Demon Barber of Fleet Street, Tommy Lee Jones in The Valley of Elah and Viggo Mortensen in Eastern Promises give good performances in non-best-picture nominees, and are thus automatically handicapped in a race against Mr. Clooney and Mr. Day-Lewis, with their nominated film entries.