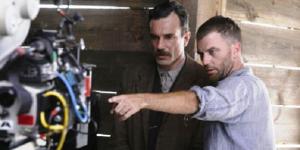 Forty-one New York and Los Angeles movie critics from Time, Newsweek, The New Yorker and Salon.com gathered at Sardi's Restaurant in Times Square Saturday night to vote on the top films of the year.
Paul Thomas Anderson's much-touted There Will Be Blood took four prizes, including best picture, at the 42nd annual National Society of Film Critics Awards. Daniel Day-Lewis drew actor kudos, while Mr. Anderson won for director and Robert Elswit for cinematography.
From Day-Lewis' interview with The Observer's Sara Vilkomerson:
"Paul thought we were making a blockbuster," he said of his director. "I thought we were making a film that would have us sort of drummed out of town with bell, book and candle. … So I feel we're going to achieve some kind of middle ground." He continued: "It's just so great Paul thought that. I just love it: There's no woman, no romance, no nothing—just fucking filthy guys digging holes in the ground."
For supporting actor, Casey Affleck of The Assassination of Jesse James by the Coward Robert Ford won the prize. Tamara Jenkins got the screenplay award for The Savages, and No End in Sight claimed top documentary honors. No Country for Old Men, an awards-season darling so far, was surprisingly snubbed.
Bonus: Speaking of critics, listen to a podcast of Glenn Kenny of premier.com, Harry Knowles (aintitcoolnews.com), Jen Yamato (rottentomatoes.com) and Jim Emerson (rogerebert.com) discussing the big winner on the No Country official site.
Here's the full list of winners:
PICTURE
"There Will Be Blood," Paramount Vantage
FOREIGN-LANGUAGE FILM
"4 Months, 3 Weeks and 2 Days," IFC
DIRECTOR
Paul Thomas Anderson, "There Will Be Blood"
NONFICTION FILM
"No End in Sight," Magnolia
ACTOR
Daniel Day-Lewis, "There Will Be Blood"
SUPPORTING ACTOR
Casey Affleck, "The Assassination of Jesse James by the Coward Robert Ford"
ACTRESS
Julie Christie, "Away From Her"
SUPPORTING ACTRESS
Cate Blanchett, "I'm Not There"
SCREENPLAY
Tamara Jenkins, "The Savages"
CINEMATOGRAPHY
Robert Elswit, "There Will Be Blood"
EXPERIMENTAL FILM
"Profit Motive and the Whispering Wind," John Gianvito