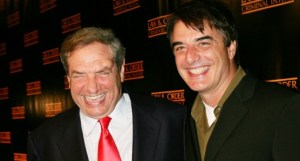 NBC is suing Law & Order creator Dick Wolf over a contract provision that would give him executive producer fees if any version of his hit crime series were to be cancelled, Variety reports.
According to the complaint, a 2004 agreement between the parties contained a 48-episode guarantee. NBC contends that the guarantee is like a "pay or play deal," providing Wolf with one additional year of executive producer fees for shows not actually produced after the last one-season order by NBC. Alternatively, if the last order by NBC is a two-season order, NBC would not have to pay Wolf for any episodes not actually produced.
In May, Wolf notified NBC that he had a different interpretation of the contract. Wolf contends it is like a "kill fee," under which he is entitled to a two-year severance package once a "Law & Order" show is not renewed. NBC claims that interpretation of the contract would provide Wolf with an unintended windfall of millions of dollars. The parties have been in negotiations since September, but have been unable to resolve their differences without litigation.
NBC is not seeking monetary damages. Rather, the suit asks for "declaratory relief" or a rewriting of the contract.