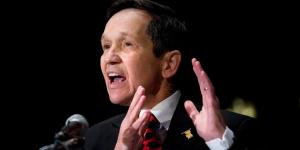 A Nevada judge ruled yesterday afternoon that MSBNC will have to include Democratic presidential candidate Dennis Kucinich in tonight's debate—or face a possible injunction halting the televised event from occurring.
"The judge called it a matter of fairness and said Nevada voters will benefit if they hear from more than just Hillary Rodham Clinton, Barack Obama, and John Edwards," the AP reported Monday afternoon.
Last night, a spokesperson for the Clark County District Court told the Media Mob that the judge is expected to sign the final order in the matter at roughly 8:00 a.m. this morning.
NBC News released a statement Monday night saying that they "disagree with the judge's decision and are filing an appeal."
The appellate court for Clark County District Court is the Nevada Supreme Court. But according to the court spokesperson, during Monday's hearing, NBC lawyers argued that it was a federal jurisdiction case, raising the possibility that a federal court might also get involved today.