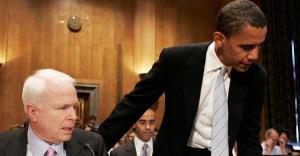 Another new New Hampshire poll is out this morning, but be careful with it: Most of it was conducted before the Iowa results were in, so it does not reflect the "bounce" Iowa's winners traditionally receive.
The MSNBC/Mason-Dixon survey has Barack Obama ahead of Hillary Clinton, 33 to 31 percent, and John McCain opening an 8-point lead over Mitt Romney, 32 to 24 percent.
But, the poll was conducted between January 2 and January 4. The Iowa results weren't known until late at night on January 3, after polling for that day had stopped.
This is another illustration of why polling in New Hampshire is so tough this year: Reputable polls like Mason-Dixon's take a few days to conduct and tabulate; with only four full days between the end of Iowa and the start of voting in New Hampshire, that makes it nearly impossible for any reliable poll to capture the effect of the Iowa bounce before Tuesday's primary.
Also, Matt Drudge is touting a new Rassmussen Reports poll that supposedly has Obama up 12 over Clinton, but it's not up on Rasmussen's site yet. Rasmussen uses a different methodology than traditional polling outlets, one that is considered less reliable but that allows Rasmussen to conduct fresh polls every day.