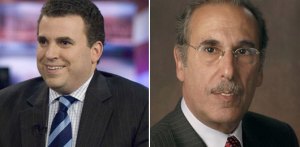 On the first weekend in February, Katie Couric and her CBS News colleagues will run through a mock election, complete with fake returns, and pseudo projections: a Super Rehearsal for Super Tuesday.
Paul Friedman, senior vice president for CBS News, recently explained to NYTV that CBS will use the weekend rehearsal to tune up for their Feb. 5 Super Tuesday coverage, which will culminate in a one-hour live special hosted by Ms. Couric, beginning at 10 p.m.
Mr. Friedman said that he will spend the super night strapped into a headset, in the CBS News control room, helping to flip and shift and shuffle dozens of fast moving parts—reports from the field, exit poll data, delegate calculations—into one (hopefully!) seamless production of gripping political theater.
Much has been said about Feb. 5, which, aside from the general election in November, will be the biggest televised political event yet this year. (One day, 24 states! "Giga Tuesday," some have renamed it.) "This is, without a doubt, the most intense campaign I've ever covered," said Marty Ryan.
In the coming weeks, Mr. Ryan, the executive producer of political programming for Fox News and a control room warhorse, will pull double duty for News Corp. On Feb. 3, Super Bowl Sunday, Mr. Ryan will man the control room for a three hour, football-cum-politics extravaganza (dubbed "Super Sunday") that will feature Fox News talent and will be shown on Fox broadcast stations around the country.
Two days later, Mr. Ryan will jump back in the control room saddle to produce Fox News' Super Tuesday coverage.
"Sometimes you hear athletes talk about slowing down the game," added Mr. Ryan. "That's what you have to do on election night. Things happen so fast. So you need to slow it down for the viewers, so that they can understand what is going on."
"We've been getting ready for Super Tuesday for two years now," said Sam Feist.
Mr. Feist, a senior executive producer of political programming for CNN, will help oversee CNN's continuous Super Tuesday programming from the election center at the Time Warner Center. Among his many responsibilities, Mr. Feist said will help project the winner of the races. "It's the most extraordinary primary night in American history, 24 states and American Samoa—don't forget American Samoa!" said Mr. Feist. "We'll be well positioned to do it."
"It's just a ton of moving parts," said David Chalian, the political director of ABC News. Mr. Chalian said he will spend Super Tuesday in a makeshift election room, at the ABC News headquarters in midtown Manhattan, just off the set from the live action. Although the plans are still being finalized, ABC is currently scheduled to air an hour-long special from 10 to 11 p.m. (and like CBS, ABC will have a Super Tuesday rehearsal beforehand).
According to Mr. Chalian, the conference room will be packed on Super Tuesday, with members of a team pouring over exit polling, a unit analyzing who turned out and why, and a law and justice team patrolling the returns for voting irregularities.