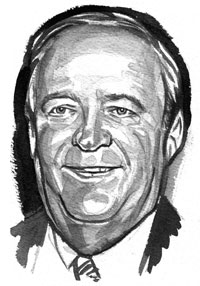 In late March 1992, Jerry Brown, the mercurial former California governor and sometime Linda Ronstadt companion who was then waging his third unsuccessful bid for the Democratic presidential nomination, stood at Castle Point in Hoboken with the Manhattan skyline behind him.
"This," he declared, "is the Empire State!"
"It's the Garden State!" the crowd shouted back.
"I'm looking across the river," Mr. Brown replied. "Even though we are physically in New Jersey, we are spiritually in New York."
Governor Moonbeam had a point. His campaign, freshly rejuvenated by his stunning upset of Bill Clinton in the Connecticut primary, was gunning for a follow-up win in New York on April 7. New Jersey, which wouldn't vote until June 2, was a distant afterthought, to Mr. Brown and to everyone else.
Last in the nation and utterly irrelevant: Such was the Garden State's fate for 20 long years.
In June 1984, New Jersey's Democrats, miffed by Gary Hart's ill-advised and highly unoriginal crack about their state's reserves of toxic waste, turned on the Colorado senator and handed Walter Mondale a decisive win that sealed the Democratic nomination for him. But that was New Jersey's last stand. From 1988 through 2004, both parties' races were settled earlier and earlier. But New Jersey treated its June primary like its full-service gas stations and 24-hour diners: as sacred and untouchable.
This time, it was supposed to be different. After years of stubborn opposition from the state's political leaders, then-Governor Richard J. Codey declared himself sick of presidential candidates who saw his state as nothing more than an A.T.M. and in 2005 pushed through a radical reform: In 2008, New Jersey would vote in February.
Originally, the date was set for the end of February, but soon enough it was bumped up further, to Feb. 5—the earliest allowed by the Democratic National Committee after the initial stand-alone contests in Iowa, New Hampshire, Nevada and South Carolina. Grass-roots activists, bit players in the national game for decades, salivated over their new king- (or queen-) maker role. Clifton would be like Council Bluffs, Metuchen the new Manchester.
And the early date has made a difference. Previously, the only time candidates showed up in New Jersey was for exclusive, walled-off fund-raising events. This year, they've actually tried to meet some voters. The day after his humbling setback in New Hampshire, Barack Obama fired up an overflowing rally at St. Peter's College in Jersey City. Two weeks later, Hillary Clinton was summoned to Hackensack by one of the state's mightiest Democratic bosses—who had promised his backing only if she'd make a personal campaign appearance with him.
It's a far cry from June 2004, when New Jersey staged its last Democratic primary. John Kerry had long since wrapped up the nomination and was deep into his running-mate search when the state gave him 92 percent of the vote (to Dennis Kucinich's 4 percent) in what was one of the all-time least consequential election events.
But there's a catch: Other states—lots of other states—had the same idea as New Jersey. Twenty-one others, along with Guam and Americans living abroad, will hold nominating contests next Tuesday—the most expansive single day of contests ever seen in either party. There will be 1,688 pledged Democratic delegates at stake—about 40 percent of the entire convention.
In other words, in their quest to maximize their relevance, New Jersey and her Feb. 5 sisters have all diluted their individual impact.
What's more, 2008 is a throwback campaign, the first since the days of Hart and Mondale in which a Democratic nomination has not been settled early. After Mr. Obama's energizing South Carolina landslide, which was followed by high-profile endorsements from Ted and Caroline Kennedy, the smart money is now on a Feb. 5 draw, with Mr. Obama and Mrs. Clinton splitting the national pot of gold. Each of them could emerge from the day with close to 1,000 delegates, far from the 2,026 needed to claim the nomination and enough for each of them to claim momentum going forward.
And that would make 2008—just like every campaign since 1984—another missed opportunity for New Jersey. Suddenly, the comparatively few states that didn't join the rush to Feb. 5 would be empowered to settle the race. Between Feb. 9 and June 3, another 23 states (plus the District of Columbia, Guam and Puerto Rico) will hold caucuses and primaries. Two weeks, for instance, separate the Feb. 19 Wisconsin primary and the March 4 Ohio primary. Conceivably, the entire political world will be based in Columbus for that time.
It figures: New Jersey's leaders wasted two decades clinging to their late primary, and then they get rid of it the one year it could have been meaningful.