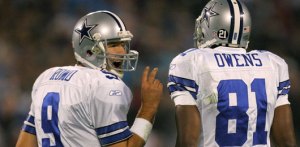 Despite losing both regular season matchups against the Cowboys, the Giants are hardly an underdog against the NFC East champions this Sunday.
The focus on this game starts with the question mark surrounding Terrell Owens and his high ankle sprain, an injury that usually takes longer than two weeks to heal completely. While the 12-year veteran's capability is projected at only 65-70 percent of full recovery, even at that level he's a serious threat. Fans might remember Super Bowl XXXIX in 2005, when Owens was still recovering from surgery for a similar ankle injury: he had nine receptions for 122 yards in a loss to the Patriots. If it's a meaningful game, Owens will not just play but will find a way to torture the Giants' secondary all game.
However, as last week's Wild Card game proved, New York has some say in making plays in pass coverage. After blanketing Joey Galloway last week, Corey Webster may be called upon to cover Owens if Sam Madison misses another game and will probably have help from Gibril Wilson. Given that Owens burned Madison's attempts to bump-and-run the receiver for two touchdown catches in the Giants Week 10 loss to Dallas, Tom Coughlin should use the speedy Webster instead.
The Giants will still have their hands full dealing with the possible return of another talented wideout in Terry Glenn, as well as covering tight end Jason Witten. Defensive coordinator Steve Spagnuolo would be wise to give help to his cornerbacks and safeties and hope that the Giants' talented front four will continue their dominance against the run.
Speed will also be a factor for the Giants on offense. With bruising pass-rushers DeMarcus Ware and Greg Ellis (both of whom had a sack of Eli Manning in their last game) coming off the edges, offensive coordinator Kevin Gilbride should keep the offense as simple as he did last week. He should utilize the emerging success of the halfback screen with both Brandon Jacobs, who has vastly improved his pass-catching skills, and Ahmad Bradshaw. In addition, look for tight end Kevin Boss to flourish: strong safety Roy Williams is a liability against the pass and will likely be assigned to cover Boss. His soft hands and solid route-running have been a relief in replacement of the injured Jeremy Shockey, who beat Williams for 12 catches and 129 yards in Week 10.
Cowboys' quarterback and playboy Tony Romo established himself as one of the NFL's elite passers this season. But he's prone to an inconsistent performance or two per year. After leading Dallas to the playoffs last season, Romo had an unimpressive showing against the Seahawks in which he hit just over 58 percent of his passes for one touchdown and infamously botched the hold on an attempted field goal that would have put the Cowboys ahead. The Giants should hope for a repeat performance. Or, they could discreetly purchase a ticket for Romo's girlfriend and apparent game-day jinx Jessica Simpson right behind the Cowboys bench, where she might achieve what the Giants can't.