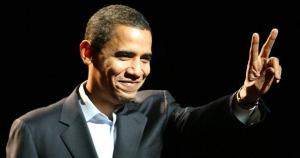 An Obama campaign manager is declaring a victory of sorts in Nevada, after their campaign edged out Hillary Clinton in delegates, 13 to 12.
"In terms of the delegate count we came out with a one-delegate lead," David Plouffe said in a conference call that just ended with reporters. When asked if that meant Obama had actually won the caucus, Plouffe replied, "We'll leave that to you guys," and "It's very important numerically."
Another Obama aide, Jeff Berman, who ran the campaign's delegate selection, explained the convoluted process by which Obama apparently had won more delegates despite losing the state by a significant margin to Clinton.
What it all meant, Plouffe said, is that the candidates are destined for a "long and protracted" nominating process.
UPDATE: The Clinton campaign begs to differ. Here's their statement:
"Hillary Clinton won the Nevada Caucuses today by winning a majority of the delegates at stake.
The Obama campaign is wrong. Delegates for the national convention will not be determined until April 19.
UPDATE: Here's the latest on this matter from the Nevada Democratic Party:
**Clarification** of Statement by Nevada Democratic Party Chair Jill Derby
(Las Vegas, NV) "The Nevada Democratic Party and its officials have taken great effort to maintain our neutrality in the presidential campaign and the integrity of our process. Today, two out of three Nevadans who caucused chose a Democrat instead of a Republican for president. That is an overwhelming majority vote for a new direction. Just like in Iowa, what was awarded today were delegates to the County Convention, of which Senator Clinton won the majority. No national convention delegates were awarded. That said, if the delegate preferences remain unchanged between now and April 2008, the calculations of national convention delegates being circulated by the Associated Press are correct. We look forward to our county and state conventions where we will choose the delegates for the nominee that Nevadans support."
The AP-circulated calculation she's referring to is Obama 13, Clinton 12.