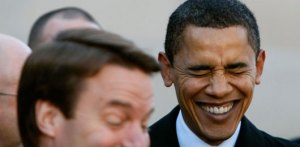 SUMTER, S.C.—The local doctor who introduced Barack Obama here this afternoon takes canvassing to a level few others can match.
Dr. Brenda Williams told the me after the event that :"Earlier today, I had a speculum up a young woman's vagina and she said to me, 'Dr. Williams, why do you support Obama?'"
"And I said to her, 'Well, you just keep breathing in and out, and I will tell you what is so marvelous and splendid about this young man.'"
The 56-year-old Dr. Williams also revealed that she plays a DVD of Obama speeches "two or three times a day" in her waiting room, hoping to convert new believers to what she called "this magnificent movement."
Referring to her exuberant introduction during his speech, Obama said with a laugh, "The only problem with Dr. Williams is she's a little shy—doesn't like to speak up, let folks know what she's thinking."
Later, after Obama had delivered an energetic address that hewed closely to his stump speech, Williams joked with friends that Obama would be coming to her house for dinner.
"I'm making a sweet potato pie," she said happily, adding, "You all know I'm lying. You think I'd be sitting here talking if Barack Obama was coming for dinner?"
Williams also told the me about growing up in segregated Georgia where, as a child, she believed she would be sent to jail for "putting one toe" on the grass in public parks.
"I think about those things and then I think of Barack Obama as president of the United States. And I know that America is on the brink of another revolution."