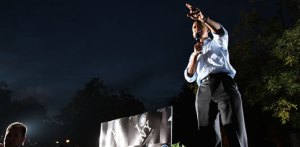 Barack Obama's campaign manager said they've raised $5 million online since the polls closed in South Carolina, and they'll be advertising on television in New York starting tomorrow.
"We will be going on New York broadcast television and Philadelphia broadcast television tomorrow with a couple of spots, which we'll be sending around later today," national campaign manager David Plouffe told reporters on a conference call just now.
"We will be beefing up our buy in the Los Angeles market," he said, while noting that the campaign is already running radio ads in places like Alaska and Idaho.
UPDATE: Consultant Joe Mercurio, who follows campaign ad buys, just told me, "When the dust settles I would not be surprised if Super Tuesday gets only as much money as little baby Iowa and New Hampshire combined received."