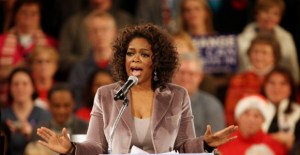 Oprah Winfrey continues her quest to take over the world! The media queen is partnering with Discovery Channel to start "OWN: The Oprah Winfrey Network." Ms. Winfrey is already running her own TV show, production company, magazine and Web site, and will be the chairman of OWN, set to start airing programming in 2009. The companies said it was a cashless deal, but did not disclose other financial details. OWN will also seek a chief executive to oversee day to day operations, according to Reuters.
Ms. Winfrey was a significant financial and creative partner in another cable network, Oxygen, which was created to be a fresh breath of air for women. NBC bought the Oxygen channel in October.
In a statement, Winfrey said the network "is the evolution of the work I've been doing on television all these years and a natural extension of my show."
The mandate of the network, said David Zaslav, president and CEO of Discovery Communications, is "to entertain, inform and inspire people to live their best lives."
Discovery said Winfrey will have "full editorial control" over the joint venture, with responsibility for "programming, branding and creative vision."