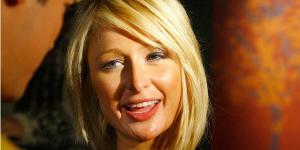 Last night I had my one night out experiencing the craziness that is Main Street in Park City. The entire slushy street was filled with people — think Times Square at rush hour — lining up outside of various parties. As my group approached the after-party sponsored by Hypnotiq for Be Kind Rewind, directed by Michel Gondry and starring Jack Black, a mob scene broke out on the sidewalk a few doors down. Who could it be? Hysteria grew, camera phones flashed. The answer? Ms. Paris Hilton. "I saw your tape, Paris!" one hopeful youngster cried out.
The party for Be Kind Rewind, drew a good-looking, mostly LA-type crowd. We can't help but wonder — who are these girls that can brave these temperatures with short skirts and no tights? Josh Hartnett showed up (he had the good sense to wear a toasty-looking hat) and Mr. Gondry played the drums. Further down the street at the Queer Lounge celebrating the documentary Derek, about artist Derek Jarman, drag queens mixed with impeccably groomed fellas and The Donnas played to a fully packed house.
Elsewhere, apparently, 50 Cent played a set and rumors continue of a secret U2 show.