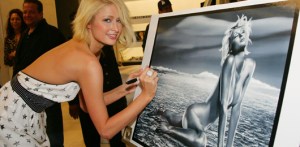 Paris Hilton once said: "All you have to do in life is go out with your friends, party hard and look twice as good [as the woman next to you.]" But according to an article in today's Times, it's now far more complicated. A new social era has dawned, one in which first impressions are often made in a digital context.
Facebook, anyone?
For most members of the behemoth online networking community, high time for silly, drunken or even unattractive profile pictures ends sometime around college graduation. Hitting the mean streets of adulthood can be brutal, after all, and putting your best face forward can—for better or worse—prove rewarding both socially and professionally.
Mark R. Leary, a professor at Duke University, has been studying that very concept, asking his students how they present themselves to others on the Web. "We've been struck by the dilemma people are in," Mr. Leary said of his study. "Some people seem to pick an audience. Other people pick and choose the best parts of themselves. As a professor, my Facebook page is just watered down. I can't have pictures of me playing beer pong." Finally, Facebook helps someone to make a good decision.
What the professor has ultimately discovered is that a person's "appearance" on the networking site actually affects they way other members perceive that individual. "[U]sers who had public postings on their wall (an online bulletin board) from attractive friends were considered to be significantly better looking than people who had postings from unattractive friends," according to the Times. Eureka! We were wondering what caused our sudden, uncontrollable attraction to socialite-editor Kelly Killoren Bensimon.