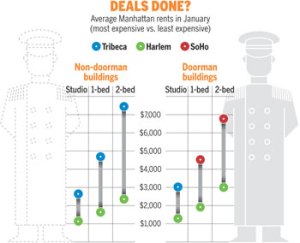 For over a decade now, Manhattan and Brooklyn have competed for the affections of younger or first-time renters. Manhattan was Manhattan, the gentrifying New Rome with all the amenities and nightlife one could want, often with shorter work commutes. Brooklyn was ever-emergent, the cool capital with reservations—longer commutes and sparser retail, plus the burden of pioneering in neighborhoods that didn't always welcome newcomers.
But, oh, Brooklyn! What deals! Compared to Manhattan, Brooklyn apartments in the brownstone satellites like Carroll Gardens and Park Slope seemed—in fact, were—so cheap. And yet the neighborhoods looked and felt like nascent versions of SoHo or the West Village.
The latest numbers suggest this trend is ending. It's not just that Brooklyn brownstone neighborhoods are getting comparably expensive to Manhattan; it's that they're getting a lot more expensive at a time when Manhattan seems to have topped out.
While the Manhattan apartment market did scale tremendous heights in 2007, it also exhibited signs of softening. And some neighborhoods like Hell's Kitchen and the Lower East Side slipped below Brooklyn locales like Park Slope and Williamsburg in rent medians.
In 2007, through January of this year, rents increased in almost all parts of Manhattan. The average rent on a two-bedroom in a non-doorman building below 100th Street increased 14.2 percent from January to December, to $3,949, according to brokerage the Real Estate Group New York. For a non-doorman one-bedroom, it was up nearly 3 percent, to $2,919.
New numbers out for this January show that rents kept increasing after December. The average two-bedroom rent in a non-doorman building was $3,919 this month, up from $3,459 last January, according to the Real Estate Group, which incorporated Harlem into its monthly reports for the first time this January.
Of course, divining the rental market in any borough remains a frustratingly inexact science. Subleases almost never make it into the calculations of the brokerages that produce rental data; and, to say the very least, Gotham has spawned some of civilization's most creative living situations.
And Manhattan has long grappled with (or long benefited from, depending on perspective) an absurdly low vacancy rate. The investment-sales firm Marcus & Millichap, which does not broker apartment leases, estimated the Manhattan vacancy rate at under 3 percent by the end of 2007.
But the dimly lit signs of softening are there this month: "Layoffs and reported losses at some of the country's largest financial institutions sent the stock market and the value of Manhattan apartments lower in January," the Real Estate Group's report concluded.
Average rents dropped from December of 2007 to January for non-doorman studios, one-bedrooms and two-bedrooms; and for one-bedrooms in doorman buildings. The gulf, too, between the most expensive neighborhood surveyed of Tribeca and the least expensive of Harlem was relatively narrow in January. A mere (by Manhattan standards) $1,572 a month separated the two neighborhoods' non-doorman studio averages.
More startling: Parts of brownstone Brooklyn now appear much more expensive than Manhattan.
In 2005, the median monthly rent for Park Slope and Carroll Gardens in Brooklyn was $1,090, according to the Furman Center for Real Estate & Urban Policy at New York University. Now, barely two years later, the Park Slope median is $3,050, according to an analysis of apartment listings for The Observer by research firm StreetEasy.com, and the Lower East Side's median is $2,700.
Williamsburg, the beachhead 15 years ago of Manhattan migration to Brooklyn, has a median rent of around $2,900, according to the StreetEasy's analysis, which included over 100 apartment listings in Williamsburg. That would make Williamsburg pricier than not only the Lower East Side, but also Hell's Kitchen in Manhattan.
Will the Williamsburg-Greenpoint apartment hunter soon look to Hell's Kitchen and the Lower East Side for deals? Maybe. And maybe soon.
While Manhattan overall does remain more expensive than brownstone Brooklyn—with a median rent in mid-January of around $3,100 versus $2,050—the intimation is there: Manhattan's rental market likely peaked in 2007, and parts of it will descend (or continue to descend) below parts of Brooklyn. Queens, anyone?