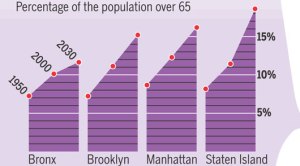 New York City's in the midst of a grandparent boom, or at least getting there fast. The Bloomberg administration projects the population percentage of those 65 and older to grow by over 44 percent from 2000 through 2030, while the overall population increases only 14 percent; and by 2030, every baby boomer in New York will be at least 65—all this against the backdrop of a growing U.S. and world population.
Somebody will be pinching those newborn cheeks and putting out the ribbon candy, throwing on Jay-Z CDs (yes, children, our music came on these big things!) and babbling about the time George Bush won the presidency even though he lost the popular vote.
More importantly, more people in the coming decades will be visiting their New York grandparents in more assisted-living developments throughout the city; or crashing for a weekend in their grandparents' New York pied-à-terres; or, somberly enough, picking through and divvying up the New York property of recently deceased grandparents.
While it's impossible to say exactly how many grandparents claim New York as their home city, the numbers suggest that there's got to be a lot more than there used to be, maybe more than there's ever been—and that will continue to be the case toward midcentury.
"It certainly suggests there will be a lot of grandpas and grandmas out there, and a lot of happy children out there—or, I should say, a lot of spoiled children out there," said Jonathan Bowles, director of the Center for an Urban Future, which has analyzed the effects of the elderly increase on New York's economy.
Americans are living longer. A 65-year-old in 2001 could expect to live another 18.1 years and a 75-year-old another 11.5, according to the Centers for Disease Control. An American born in 1955 can expect to live to nearly 70. And an American born in 2005 can expect to live 77.9 years—an all-time high for the nation—and the death rate by that year had dropped to a record low of 800 deaths for every 100,000 Americans.
This longevity trend certainly includes New York. The share of people over 65 is expected to increase in the next 25 years in every borough. By 2030 in Manhattan, nearly 295,000 of the borough's projected population of 1.83 million will be at least 65, according to the PlaNYC long-term study by the Bloomberg administration. About 410,000 of Brooklyn's projected 2.72 million residents in 2030 will be over 65 (a 45 percent jump from 2000). The city's median age will be 37-plus, meaning most of us will be in middle age or getting there fast.
And, according to census estimates, the nation appears in the midst of, if not a birthing boom, then definitely a bump. Nationally, the number of people under 5 years of age increased 6.4 percent from July 2000 to July 2006, faster than the U.S. population's growth of 6 percent.
In Manhattan, the number of children under 5 increased 29.4 percent from 2000 to 2006, according to census estimates. In Brooklyn, the number was up 5.6 percent. Both increases far outpaced the general population growth of each borough.
The growth in grandparents could represent the sort of seismic demographic shift that affects not only the routines of New Yorkers—it's Thanksgiving in Manhattan this year, kids!—but also the physical makeup of the city's real estate.
Stephen O'Neal is a top broker with Bellmarc Realty. About a year and a half ago, he sold a co-op in the Lincoln Towers on West End Avenue to a woman expecting twins. Her parents visited often, Mr. O'Neal said, after the twins were born; they stayed in hotels and slept in their daughter's second bedroom.
"Eventually, they said, 'Find us an apartment,'" Mr. O'Neal said.
He did, and the grandparents last March bought in a co-op next door, where they can literally see from their balcony the entrance of their daughter's—and grandchildren's—building.
Such pied-à-terres have grown in popularity in recent years, though hard numbers are difficult to come by; Manhattan housing numbers do routinely show studios and one-bedrooms, the likeliest pied-à-terre material, constituting at least one-third of apartment sales, and anecdotes like Mr. O'Neal's abound. And it's not just grandparents with children in the city snatching up the pied-à-terres. It's also, quite simply, grandparents, regardless of where their grandchildren reside.
While it might seem odd to older New Yorkers long enough in the tooth to remember the bad old Gotham of high crime rates and subway graffiti, the reality now is that people want to grow old here. The city's fun and safer and accessible (perhaps not so much by public transportation, but generally so).
Developers recognize this new reality, of course, as do brokers and marketers. The Real Deal magazine reported in November 2006 that as many as 50 assisted-living developments had sprung up in the previous 18 months in the five boroughs, plus Long Island. And one has to wonder if all the new luxury condos of the past few years weren't intentionally made as self-contained worlds, replete as each building was with gyms, social areas, concierge service, even lobby fridges for Fresh Direct.
But so what, these amenities? Will they please the grandchildren some day?