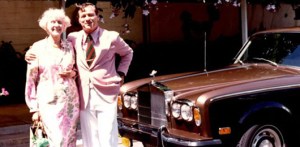 Ranan Lurie, 75, is a colossal human being: He was the most widely syndicated political cartoonist for 20 straight years; his genealogy goes back to King David; his wife is the top-selling real estate broker in purebred Greenwich, Conn.; and he's in the 40th year of a worldwide art project, The Uniting Painting, centered at the UN.
So it somehow makes sense that around two years ago, after buying a $2.995 million apartment at the Time Warner Center, he decided to buy a second condo two doors down at 15 Central Park West, which hadn't been built yet.
When he walked into the sales office, Mr. Lurie kindly asked a broker to point out on the building model the highest apartment still on the market. "Then I roamed around the model like a wolf turning around, shall we say, the zebra. … I said, 'How much is it?' And the broker said, '$11.25 million.' And I said, 'I'll take it.'"
His wife of 50 years, Tamar, is one of the nation's top-grossing brokers, but she wasn't immediately consulted. "Well, when I told her what I did—what we did—she said, 'Excuse me?'" But Ms. Lurie, who reportedly did $87,535,000 in 2006 deals, was quick to come around. "We've had an exciting life together, with a lot of adventures," Mr. Lurie said. "She trusted my judgment."
Though he's friendly with 15 Central Park West developers Arthur Zeckendorf and Eyal Ofer, Mr. Lurie didn't get a price cut. His broker, Elliman's Tamir Shemesh, advised him to negotiate: "He took me aside and said, 'Please, just for good manners, try and knock off $100,000.'" But the artist doesn't like haggling.
One perk of life at the new building, Mr. Lurie said, is that one of the two Google founders is a neighbor. "When you want to know how many people in Oshkosh, you poor people have to go open your computer and everything. I go and ring the bell of Mr. Google and say, 'How many people in Oshkosh?'"