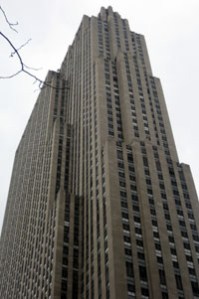 The Rockefellers are mostly checking out of Rockefeller Plaza's signature tower.
The wealth management firm Rockefeller & Co. is moving out of two of its three floors in the 70-story 30 Rockefeller Plaza and into new space in the suburbs and existing space in the slightly less vertical 10 Rockefeller Plaza.
Rockefeller & Co. CEO James McDonald told The Observer that the company will maintain its presence on the 56th floor of 30 Rockefeller, a historic floor for the Rockefeller family as it was once home to magnate John D. Rockefeller's personal office.
"We've actually been expanding, and 54 and 55 just aren't enough space for what we need," Mr. McDonald said, adding that the firm was sandwiched between two long-term tenants above and below. "The 56th floor has tremendous history and important history.
"Our expansion will be taking us to some very good space at 10 Rockefeller Center, and also to a significant amount of space in a suburban location," he said, declining to be more specific about the suburb.
The privately held firm, which evolved from the group that managed the Rockefeller family's assets to one that did the same for others, is expanding at a time when much of the financial sector is wincing in pain amid mortgage woes; Mr. McDonald said their head count is growing by about 20 percent per year.
Taken with a number of other vacancies in 30 Roc, the Rockefellers' surrender of some 65,000 square feet leaves a rather large amount of total space available in the historic Art Deco tower. Between building owner Tishman Speyer and its tenants' subleasing space, more than 320,000 square feet are advertised as available. NBC sold off some of its condo floors to Tishman Speyer last summer as it vacated them, and the law firm Dechert, a tenant in the building, is slated to move to 1095 Avenue of the Americas in July.
Rents hardly come cheap in 30 Roc. Asking rents for the open floors between 22 and 29 are around $130 a square foot, according to multiple sources familiar with the space.