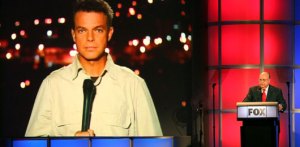 On Feb. 3, a k a Super Bowl Sunday, in an original News Corp. smorgasbord, reporters from FOX News will be teaming up with reporters from FOX owned and operated stations from around the country for a three hour broadcast event, focusing on—USA! USA!—presidential politics and professional football.
Shepard Smith, of FOX News, will headline the production from Glendale, Ariz., the site of this year's Super Bowl. FOX News anchor (and Cincinnati Bengals fanatic) Bill Hemmer will contribute from New York, along with Fox News' Megyn Kelly.
As the anchors toggle back and forth between discussion of the Super Bowl and Super Tuesday, they will chew over political dispatches from FOX Broadcasting reporters from around the country.
More from today's announcement:
FOX Super Sunday
will also include a behind-the-scenes look as the action gets underway for the Superbowl. Meanwhile, FOX Business Network's Alexis Glick will offer a peek at the best commercials and the economics behind the biggest sporting event of the year while FOX News correspondents Carl Cameron and Major Garrett will provide live updates from the campaign trail alongside correspondent Bret Baier in Washington, D.C.
Also reporting from campaigns across the country will be Dick Brennan (WNYW FOX 5) with Rudy Giuliani, Harry Martin (WWOR My9) with Hillary Clinton, Jack Conaty (WFLD FOX 32) with Barack Obama, Scott Sayres (KDFW FOX 4) with Mike Huckabee, Joe Battenfeld (WFXT FOX25) with Mitt Romney, Steve Krafft (KSAZ FOX 10) with John McCain, Jason Carter (WHBQ FOX 13) with Fred Thompson and Bob Buckley (WGHP FOX8) with John Edwards.