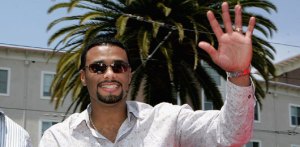 The New York Mets have completed a trade for the best starting pitcher in baseball, dealing four prospects to the Minnesota Twins for lefthander Johan Santana late Tuesday afternoon.
The Mets will give up outfielder Carlos Gomez and pitchers Philip Humber, Kevin Mulvey and Deolis Guerra. The deal is still pending both a physical by Santana and an agreement between the Mets and Santana on a contract extension—Santana is a free agent following the 2008 season—but neither is expected to be a stumbling block.
It is believed that Santana will sign for between 5-7 years, at an annual rate of more than $20 million per season.
Despite the outlay of players and likely of cash, make no mistake about it—this may be the finest trade in Mets history.
While talks between the Twins and various Santana suitors had dragged through much of the winter, Santana's agent, Peter Greenberg, made it known to the Twins that his client preferred to be traded prior to the start of spring training next month. Since Santana had the right to veto any trade, this was a request the Twins took seriously, rather than risk losing Santana after 2008 for nothing but compensatory draft picks.
What is particularly striking about this trade is that the Mets acquired the best pitcher in baseball for less than it took for the Arizona Diamondbacks to snag Dan Haren or it is reported the Seattle Mariners will give up for Erik Bedard. Both Bedard and Haren are frontline starters—but not in the same category as Johan Santana.
Of course, Bedard and Haren are not eligible to be free agents until after 2009—but for once, the Mets parlayed their financial advantage into the acquisition of the best player they could get.
Johan Santana led the American League in strikeouts in 2004, 2005 and 2006. He fell to second in 2007, four off league-leader Scott Kazmir's pace. And it wasn't just due to his durability, though he has pitched 219 innings or more in each of his four full seasons as a starter—he also ranked first, first, first and third in strikeouts per nine innings.
But there's more. His walk rate is consistently among the lowest in the American League. He's won the Cy Young Award twice. He's a great fielder—he won the American League Gold Glove for pitchers in 2007. He's a career .258 hitter—and that is despite spending most of his season not hitting at all.
And he won't be 29 until March 13.
The talent the Mets gave up, while considerable, is no sure thing—as opposed to the proven track record of Santana. Carlos Gomez is an outfielder with tremendous tools. But his best position, center field, is likely to be filled by Carlos Beltran for the foreseeable future, and it is far from certain Gomez will hit well enough to man a corner outfield spot.
And Gomez is a far superior bet to the three pitchers the Mets dealt. Philip Humber, a first-round draft pick of the Mets in 2004, had a middling 2007 in his second year back from Tommy John surgery. Kevin Mulvey, while succeeding well at AA Binghamton in 2007, lacks frontline stuff and may not be able to repeat his home run rate (4 in 151 2/3 innings) at higher levels. And Deolis Guerra, though a very talented 18-year-old, is miles from the major leagues, and has suffered through some elbow difficulty already. He is, as any low-level minor league pitcher is, a lottery ticket.
What makes this trade so lopsided for the Mets is that assuming Santana stays healthy, even should each of the four prospects reach their ceiling, a highly unlikely event, the Mets will have no cause to regret the deal. And that rarely happens—the Mets dealt an outfield prospect on par with Gomez (Preston Wilson), a pitching prospect better than any in the Santana deal (Ed Yarnall) and one on par with those they gave up (Geoff Goetz) for Mike Piazza. Needless to say, they did not regret that trade.
Ultimately, both the Yankees and Red Sox, the other two teams that could afford Santana both financially and in terms of talent to trade, decided to stand pat—the Yankees due to a desire to build around young pitching, the Red Sox due to a satisfaction with their current staff, which did, after all, just win a World Series.
And the Mets may yet manage to alter the spring storyline from the aftermath of their 2007 collapse.
So with no other alternatives, the Twins decided to get what they could. And the Mets got the best pitcher in baseball without sacrificing any major contributor from a team that fell just one game short of the playoffs in 2007, and of the World Series in 2006. By doing so, they greatly reduced their chances of falling short in 2008 and beyond.