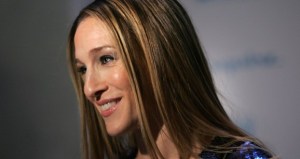 A Project Runway-like show that replaces designers with aspiring artists and sewing machines with palettes and sculpting knives? Risky, risky! But Sarah Jessica Parker's Pretty Matches company is willing to take it. They're teaming with reality wizards Dan Cutforth and Jane Lipsitz, whose credits include Bravo's Project Runway, Top Chef, and Top Design, to create the new… Project.
The show will feature the usual scheme: pit a dozen wacky artists against one another and challenge them to produce various kinds of artwork — from painting and photography to sculpting and industrial design. The finished pieces would be rated by a panel of judges, as well as by the contestants themselves. Sounds just like a grad school art review to us. Will the next Tim Gunn be Damien Hirst?!
The Magical Elves team of had been developing their own art project with former Miramax Television exec Eli Holzman for some time when they hooked up with Parker and her partner, Alison Benson. Latter duo had been developing their own take on the art world as well.
"We ended up marrying the two formats," Cutforth said.
Pitch meetings with various networks will begin as soon as next week.
While Cutforth admits that doing a show about the art world is "risky creatively," skeptics felt the same way about "Runway" before Magical Elves and Bravo turned the idea into a hit.
"Art is a much more inclusive world than people think," he said. "We really feel there's a way to show people how much they care about art in the same way 'Runway' showed people how much they care about clothes. That accessibility is why we think the show can work."
Lipsitz added that art is "something we consume every day… whether it's your favorite coffee mug, an ad in a magazine or a mural you drive by on the way to work."