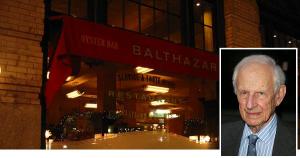 Our friend and sister-wife (via Observer blog The Media Mob) John Koblin was out in Soho last night and files this report:
At a little after 8 p.m. last night, the 88-year old Manhattan District Attorney Robert Morgenthau strolled into Balthazar.
If you tried to get a table at that time you were told there was a 90-minute wait. But not Mr. Morgenthau, who model-stomped deliberately up to the hostess stand and flashed open his wallet to show his ID. He was immediately ushered to a table.
But Balthazar does not lie. When Morgenthau finished his meal, we were seated at the table the D.A. had just vacated. It was 9:30pm—90 minutes exactly.