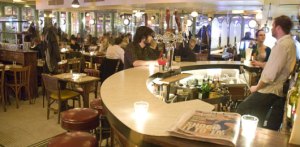 "Sheep Dip is a blend," said the waiter at Belcourt. "Pig's Nose is single malt."
He was talking about the unusual whiskies on offer at this new East Village bistro. Whatever they were called, my companion badly needed a glass, and not just because of the bitter cold outside. In the middle of the night he had been made homeless without warning, along with more than 150 other Williamsburg artists, in the now notorious "shock and awe" evacuation of 475 Kent Avenue due to building violations.
Belcourt's charm and hospitality went a long way that evening. We didn't have to stretch our imagination to think we were sitting in a Paris bistro in the 1930's, instead of on the noisy corner of East Fourth Street and Second Avenue. French flea markets have supplied most of the trappings: the marble-topped wooden tables set with candles, the mismatched Art Deco light fixtures, the sea-green French doors, and the round mahogany bar and vintage chrome-and-red-leather stools. Distressed mirrors reflect the colored lights of the grocery store across the street; the floor is mosaic tile, and the hat stand—made of thin iron poles topped with small filigree globes—looks like an early sculpture by Giacometti.
Belcourt's owner, Mehenni Zebentout, has two other popular East Village restaurants, Nomad and Cucina di Pesce. After he'd transformed his Frutti di Mare into Belcourt (a "Parisian gastropub," as the press release calls it), he hired chef Matt Hamilton.
Mr. Hamilton cooked at Zuni Cafe in San Francisco and later at Prune in the East Village. He then opened his own restaurant, Uovo, near Tompkins Square Park, but to my surprise, it closed after just two years. I had been impressed with his gutsy cooking (I still remember that wonderful Spanish-almond soup, laced with sherry vinegar, fresh grape juice and olive oil; Matt, please put this on the menu come summer). At Belcourt his food is rustic Mediterranean with influences from Provence, Tuscany and Catalonia. He uses anchovies, bitter greens and strong, fruity olive oils (he once worked on a Tuscan olive oil farm). He also searches out unusual cheeses such as amanteigado, a raw sheep's milk from Portgual, and Mrs. Quick's rich, smoky cheddar from England.
"Anything that can be made in-house, is," trumpets Belcourt's menu. That includes the duck prosciutto: thin, moist, gamey slices served with spiced persimmons, mascarpone and lamb's lettuce. The luscious, vinegary anchovies on a salad of bitter greens are house-cured; the greens are laced with frico, a crispy cheese, and tossed in a tart lemon-anchovy dressing. The boudin "hot dog" comes on a house-made bun with thick-cut homemade sauerkraut and, as our waiter breathlessly announced, "hand-ground homemade mustard." The sausage, made with chicken and pork, is terrific, as are the wild-pepper potato chips that garnish the dish. The bun, a Parker House-type roll, isn't necessary; I could have done with another sausage instead.
The cooking at Belcourt is uneven, and some dishes lack the zest of the ones at Uovo, as if they'd been toned down. Maybe the chef was off on the night an order of poulet vert organic roast chicken arrived with half the pieces raw inside their crisp skin. A rabbit casserole under a layer of mashed potato had the consistency of glue.
The salads are also hit-or-miss: Escarole with frisée and olives is dull and, curiously, half the size of the spinach salad, which is also bland, despite the manouri cheese and pine nuts in a sumac dressing. (To his credit, Mr. Hamilton knows how to make a good dressing—the Moroccan salad, with slivered cardamom-pickled carrots, salsify and greens in a coriander dressing laced with olive crisps, gives a welcome shot to a bland oil-poached octopus.) But the bitter greens are far and away the best, as if that were the salad he cared most about.
Mr. Hamilton does come up with some nice touches, such as the brandade dumplings in a zarzuela, a Spanish tomato-based seafood stew with aioli; the lavender-scented spaetzle with roast pork belly; and a breakfast omelette made with lamb tongue. Instead of serving onion rings with the hangar steak, he offers scallions fried in batter.
The desserts, however, are unexciting. They include an ordinary chocolate pot de crème, a dull pear poached in red wine, and a sliver of passable Meyer lemon tart. Instead, order the cheese du jour, persille de malzieu, a spicy French blue served with toasted walnuts along with a glass of tawny port. It's the perfect way to end a meal at Belcourt, although when I asked for bread to go with the cheese, the waiter looked as perplexed as if I'd demanded ice for my port.
After dinner, when my friend and I stepped out into the cold once more, he noted that among the many inconveniences of being without a home was the inability to get online. What timing! Belcourt may not have any spare bedrooms, but it does have free wireless, seven days a week. So, homeless Williamsburg artists, cash in the $50 dollar food voucher the Red Cross gave you and bring your laptop to Belcourt, where you can settle down to work with a glass of Pig's Nose or Sheep Dip—served straight up, without ice, of course.