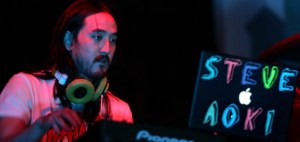 Before Steve Aoki became an oft-blogged celebrity D.J. and club promoter, his label Dim Mak was putting out records by bands that were more or less unknown outside of the insular — and, of course, elitist – late '90s/early '00s hardcore and indie rock scenes. Then Dim Mak helped launch bands like Bloc Party and the Klaxons to stardom. Then it couldn't really afford to support acts that were that big.
Which is why, under a joint venture announced today, the 29-year-old Mr. Aoki's label has partnered with the more sizeable Downtown Music (Gnarls Barkley, Spank Rock) in an effort to give its bands more clout. The Los Angeles Times reports:
Under the agreement, Dim Mak will act as a kind of scouting and artist development resource for Downtown, which in turn will give the joint releases wider distribution (through the Warner Music Group) and increased marketing muscle.
"There was a lot of talk around the industry the past couple of years that Dim Mak was looking for more money, but what I needed was infrastructure," Aoki said Friday from Chicago, where he was touring behind the release of his mix CD, "Pillowface and Airplane Chronicles."
"If we took the traditional route and just spent more money, there are no guarantees. This gives us support on the radio and retail side that we didn't have before."