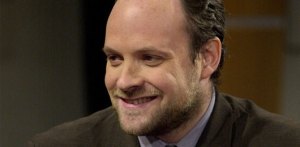 Towards the end a Hillary Clinton stump speech at a gleaming white hall in Ottumwa, Iowa last month, the campaign's communications director, Howard Wolfson, marched in out of the cold wearing a white sweater, gray sweatpants and unlaced brown work boots. Disheveled and unshaven, Mr. Wolfson possessed the feral look of someone who had spent the last 17 hours in a car.
Which, in fact, he had.
Mr. Wolfson, the chief architect and overseer of Mrs. Clinton's communications strategy, does not fly.
"It's all mishegoss—fear is not rational," said Mr. Wolfson when asked to explain the root of his now decade-long aversion to air travel. "I could point to a couple of things but at the end of the day it just ascribes a level of rationality to it that doesn't exist."
Mr. Wolfson has emerged as the John Madden of politics, opting to take double-digit-hour car and bus journeys instead of risking the air. Now, as Mrs. Clinton and her press corps jet around from South Carolina to California in pursuit of the Democratic nomination, Mr. Wolfson's presence on the campaign trail has been reduced to fleeting, apparition-like sightings. Many reporters at this point know his only as a distant, clipped voice on the phone or a short string of words on the computer screen. From a political-science standpoint, it does raise an interesting question: Is it a problem, in the midst of a heated national campaign, to have a press secretary who is seldom in a position to have any actual face-time with the press or the candidate?
Mr. Wolfson said he's aware that there are benefits to being on the road and watching the candidate in action.
"It is better to fly, it is flat-out better," he said in a telephone interview from the campaign's Washington headquarters on Jan. 19. "I don't want to sugar-coat this."
But, he added, "Certainly, the people whose job is to travel with the candidate have to fly. If your job is to run the communications shop and the headquarters, it would certainly be helpful but it is not nearly as essential as for other positions."
The consensus among former communications directors and spokesmen for presidential campaigns seems to be more or less consistent with Mr. Wolfson's take—that not being on the road is totally fine in some ways, and not so fine in others.
Robert Gibbs, the communications director for the Obama campaign, replied to the Observer's request for a comment with a gentle dig in an email, shortly before the Nevada caucuses, that read: "Sorry man can I call in a bit – getting on a plane to go to Reno."
Jano Cabrera, who was a spokesman for Al Gore's presidential campaign (and who now works at the public relations firm Burson-Marsteller, the CEO of which is the Clinton campaign's pollster Mark Penn) said that Mr. Wolfson's well-known affliction had its advantages and disadvantages.
"There are times that I wish I could have told Gore, 'Yeah, sir. I'm sorry. I don't fly," said Cabrera. "'I know you really want to talk about this speech, but it's not gonna happen.'"
Mr. Cabrera said he wouldn't wish the repetitious slog of flying around with the candidate on any foe. "It is a heartless, merciless existence. You're up there, traveling from place to place. You are sleep-deprived. You teach your body–to the second you are wheels-up–to pass out. The one take-away I have from the White House and my campaign life is that when the plane takes off I can fall asleep even if I'm not sleepy."
Then there's the bad news. "Sometimes on the press plane, there is a certain feeling that happens, a certain mind-set that happens with the press and just being aware of that is important," Mr. Cabrera said. He added, "In politics, proximity matters."
"Being on the plane with the candidate has benefits, but also many drawbacks," Stephanie Cutter, who served as the communications director for John Kerry's presidential campaign, wrote in an e-mail.
She argued that in the instant-communications age, location is less important than it used to be.
And, she said, "You're in the first line of fire from the candidate and the press corps, you live out of a suitcase and eat fast food, and have less of a role in long-term strategic decisions of the campaign simply because you're not in the room.
"Howard's refusal to fly might be more of a strategic decision than a fear of flying." (Her email ended: "Sent from my BlackBerry wireless handheld.")
Actually, Mr. Wolfson's fear is the real thing.
He said the last time he was airborne was around the time of Mrs. Clinton's 1999 Senate race, when he traveled on Air Force 1 and other military transports. When asked if he did so because those government planes seemed safer than commercial aviation, he said "That's what makes sense to me," but immediately added, "I want to make it very clear that I am not arguing for the rationality of any of this."
Perhaps the gravest consequence of Mr. Wolfson's fear of flying is that he has to spend hours and hours, and hours and hours, driving by himself.
"It's usually alone," he said. "There are not many other people willing to drive 17 hours."
During work hours, Mr. Wolfson spends most of his time behind the wheel—he drives an immaculately kept BMW—in conversations with fellow Clinton advisers or with reporters.
A widely recognized authority-slash-nerd on music–he puts out an annual top-ten list of indie groups—Mr. Wolfson says the darker driving hours are when he allots time to listen to music and to clear his head. He has never been in or even nearly missed being in an accident, but has seen a good deal of New York State and, now, the country.
"You guys probably didn't go over the river," Mr. Wolfson said about Ottumwa, shortly after his memorably jarring mid-speech entrance. "There was kind of a downtown with some interesting sort of old buildings. It gives you a sense of the history of the place."
When asked why no one had gotten around to writing about Mr. Wolfson's self-imposed travel restrictions—he's a pretty big deal, after all—some of his colleagues suggested that it wasn't worth the headache. (The response from Edwards communication director Chris Kofinis: "Jason Horowitz has left the building.")
Mr. Wolfson said that he had had plenty of reporters seeking to bum rides from him, either for better access or, in fact, to write pieces about all his time behind the wheel. "I have had no shortage of reporters asking to come along," Mr. Wolfson said.
"I have generally said 'no' to such opportunities."