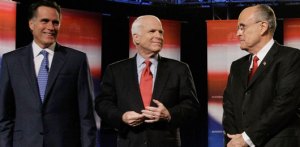 Here's what's at stake for the candidates in today's Florida primary:
Republicans
John McCain: A win, even if it's by a nose, will give the media license to declare him the clear national front-runner and should send much of the Republican rank-and-file, however reluctantly, into his camp, positioning him for a decisive string of victories on Super Tuesday. Because of Florida's closed primary, a McCain victory—unlike his New Hampshire and South Carolina wins—will not be chalked up to his support from non-Republicans and will be treated by the press as a signal from the party base that, after spurning him for nearly a decade, they are ready to close rank behind McCain.
A Florida loss will not end his campaign, since McCain has moved into commanding leads in some of the largest states that will vote on Super Tuesday. The problem, though, is that a loss to Mitt Romney would be taken as proof that the party base remains resistant to McCain and creates an opening for Romney to consolidate conservative support against McCain on February 5 and in the contests that follow it.
Mitt Romney: This is a must-win state for Romney, and the good news for him is that he's well-positioned to pull it off. For the first time in his campaign, he found a natural voice this week, emphasizing the economy and a broad change theme instead of trying to sell himself as a nativist culture warrior. And he's caught a break with the economy, his strong area and McCain's weak spot, emerging as a top issue.
If Romney defeats McCain, McCain's coronation will be put on hold—perhaps permanently. The reasons for McCain's defeat—the party base's aversion to him and Romney's new winning message—would take center stage in the press, creating a new narrative that would make Romney the hot candidate and perhaps allow him to become the candidate of the conservative base that he's always wanted to be. He could then win numerous Super Tuesday states and outlast McCain in the states that follow it.
If he finishes second to McCain, Romney can justify continuing his campaign through Super Tuesday. But that would probably just be delaying the inevitable, because a Florida loss would badly damage Romney's ability to communicate with Republican voters over the next week, with the media focusing on McCain's seeming emergence as the front-runner and the establishment's candidate. A series of lopsided February 5 defeats and a subsequent withdrawal from the race could follow.
Rudy Giuliani: He has to win. And that's looking unlikely. Maybe a decent showing—say, 20 percent?—will tempt him to press on to the February 5 states, but his support has melted away in all of them and anything short of a victory in Florida won't reverse that trend. If Rudy presses on after a Florida loss, he stands to suffer the humiliation of losing his home state to John McCain next week. It stands to reason that the worse Rudy fares in Florida, the better McCain figures to do, since both candidates appeal to similar voters.
Mike Huckabee: Psychologically, beating Giuliani for third place in Florida would be a small boost for Huckabee, who figures to be a factor in the southern states that will vote on Super Tuesday. He has low expectations in Florida, although if he were to slip into single digits, it would be a sign that many of his supporters are giving up. Huckabee appeals to voters that Romney needs to defeat McCain, meaning that a strong Huckabee showing could deliver the state to McCain. Huckabee could play the same role on Super Tuesday, siphoning critical support from Romney in states like Missouri and Illinois.
Democrats
Anything besides a Hillary Clinton victory would be a shock, but the victory should be meaningless, since no delegates are at stake and the candidates have all sworn off campaigning in Florida. When it became clear that she would falter in South Carolina, Hillary and her campaign began talking up Florida, looking for a quick public relations boost heading into Super Tuesday. Whether she receives one is not so much up to Florida's voters as it is the media.