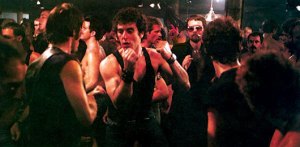 My young gay friends complain that no one picks anyone up anymore anywhere.
At 3 a.m. on a recent Sunday morning, the East Village gay bars were real dead. There had been rumors of a sporadic back room—that's the lingo for "blacked-out broom closet where dudes get it on"—at Nowhere, a casual basement bar on 14th Street between First and Second avenues. That night, the alleged back room was a well-lit coat check.
The Phoenix, down the road on 13th Street, was surprisingly empty at a little after 3 a.m.; only a handful of patrons, most with friends, were about. Phoenix is the East Village bar of choice for the young bearded set, the semi-free young things.
Behind the velvet curtain obscuring the view into the Urge, down on Second Avenue and Second Street, some real tawdry jockstrap-clad strippers gyrated on the bar; friends drank. The oddly suburban lounge was moderately fuller.
The Urge's even-darker and worse-smelling neighbor, the Cock, was a bit more boisterous; a knot of dozens of boys were too thick to get through, but they were leaving in singles and groups and sometimes even pairs pretty fast by 3:45 a.m.
A few blocks north, on Fourth Street, the Bijou, also known as Club 82, which is a longtime porno theater/sex club with grubby black cubicles, had its roll-down gate locked—something you would never have seen in the 90's. ("Where East Village boys go when they want to cheat on their husbands," says the 1994 edition of "Betty and Pansy's Severe Queer Review of New York." Not anymore!)
It's hard to find the public scene for this epidemic—the kind we were trained to recognize years ago as looking something like a scene from Cruising with Al Pacino. And yet 651 gay men aged 13 to 29 tested positive in 2005; 693 did so in 2006. At least 30 percent of all people testing positive had been infected in the previous six months.
Where is this happening?
The report from the city, which shows that the number of new H.I.V. diagnoses among gay men under 30 has been greater each year since at least 2001, spurred a New York Times editorial this week. The paper noted past public health successes: "From San Francisco to New York, bathhouses notorious for promoting casual sex changed the way they did business or closed down."
Some allowed monitoring, few closed—more opened!—and they put a bucket of condoms in the entryway. But having been to bathhouses in Phoenix, San Francisco, Fort Lauderdale and New York City (I'm willing to admit that in print!), I have never seen any zealous adherence to safe-sex guidelines, or any intrusion in the ability there to have non-safe sex beyond some helpful (and correct) advice from the occasional social-worker types. That The Times believes in that success fairy tale should make it unsurprising that the city's health department probably does, too.
The connection between a rise in H.I.V. in young men and bathhouses and sex parties is still unproven. But closing them or clamping down on them is always the first response to flare-ups in the epidemic.
The gay- and AIDS-service organizations want to make sure that these rising infection rates do not result in the shuttering of bathhouses, because where else can they reach the at-risk populations they are pledged to serve?
And other times it only drains resources on a public relations spectacle.
At a meeting held at the Lesbian, Gay, Bisexual and Transgender Community Center on West 13th Street last week, Joshua Volle, the former director of H.I.V. Prevention Planning at the city's health department, described the city's position on AIDS prevention among these increasingly at-risk young men.
"They are very much looking at this from a medical model, and the medical model says shut them down," he said, according to a report in the gay weekly Gay City News. "They don't have the resources to do it, but their intent is to shut them down. … These are my words, they are on a witch hunt."
And now that a new horror-show strain of "flesh-eating bacteria" has been catalogued over the past few years in gay men in San Francisco and Boston (the results were published in the upcoming issue of the Annals of Internal Medicine), the city will presumably enact any public health measures it might wish. (After all, it's a drug-resistant ass plague. What's … next? Ass locusts?)
The city will be scrutinizing the smuthouses closely in the coming months. There will be the bathhouses, small places like the West Side Club in Chelsea, and sex parties, of which there are dozens, and include the NY Jockparty ("You can bring your own alcohol and poppers if you like. DRUGS ARE NEVER ALLOWED!").