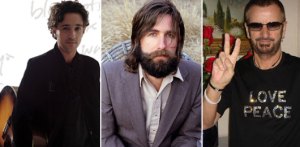 What a double-edged sword 69 Love Songs has become for the Magnetic Fields. Perhaps the apotheosis of Stephin Merritt's clever talents, it is a sublime piece of novelty that manages to transcend its gimmickry. Yet since that flurry of content, the band has only managed two albums in eight years, 2004's i and Distortion to be released today. (Read J. Gabriel Boylan's review here.) It's not that Merritt has run out of ideas; he has certainly kept busy. Here's hoping you'll find many of them on the new album. For a limited time, the entire album is being streamed on their myspace page—yay, Web 2.0!
From one New York musician to, er, another … Thomas Ian Nicholas. You may remember him from such movies as Rookie of the Year and American Pie—he always played the straight man. He's branched out in a new direction—singer-songwriter—and he couldn't be more earnest on his debut album, Without Warning. (You ain't kidding!) Here he is playing in the streets of Brooklyn.
As Band of Horses prepared to tour in promotion of their new album Cease to Begin, they called upon Asheville's Tyler Ramsey, a journeyman folk multi-instrumentalist, to open for them. He said yes, and before he knew it, he was part of the band, replacing guitarist Robin Perringer. At the time, he was working on a new solo album, A Long Dream About Swimming Across the Sea, which comes out today. If the video is any indication, it promises to be as ethereal and lovely as anything he had the opportunity to play with the Band of Horses.
If you needed reminding why Ringo Starr always took a backseat to John, Paul and George, you probably won't have to look much further than his new album, Liverpool 8 (his old zip code—a long, long time ago). Just watch him take lead on the Early Show.
Chalk it up to the power of primetime television. A day before the Figurines' "The Air We Breathe" was to be featured on last week's episode of Gossip Girl—right at the part when Dan tells Serena that he loves her, no less—a video for the song pops up on the label's Web site. They try to explain it away with some Blair Witch type tactics of found footage, but I'm a little skeptical …
[Via Stereogum.]