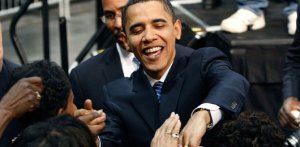 MYRTLE BEACH, S.C.—Surely no other state has so many cars left at the side of the road, even on the appropriately uptight Strom Thurmond Highway. Behind the cars, there are sometimes closed pecan or peanut stands, then a spongy, hazy line of tree fingers, and frozen moss; sometimes a far-off tiny sign hovering over it all that just says "EAT."
It all feels out of sight. Like this weird choreography that happened on the steps of the State Capitol building on Martin Luther King Day in Columbia. Barack Obama and John Edwards came across the imposing stone steps west to east; the sun was behind the building, keeping the large crowd in icy shade—but the Confederate flag flying high behind the crowd was in the light. So Mr. Obama and Mr. Edwards came on and sat on chairs while black organizers talked (and talked!). No one said anything about the two candidates, and they weren't shivering, but Mr. Obama was chomping away.
"He's killing that gum," said a young girl in the audience.
After a while, the two men stood together and strode off in a way that made you think the Secret Service had urged them to go. But it was just Hillary Clinton's turn to sit onstage for a while, alone and bundled and smiling like a Russian.
Three lawyers! Why can't they get along? (Hah, right?)
Everyone's buying the line on the Clinton-Obama show that they hate each other. But after the Democratic debate that would come later that night, one of Hillary's talkbots said: "Why not air it out? We will be friends when this is over." Ah, schemes.
So then in Columbia, also there was the issue of Obama's hot new speech. The audience was his; the day was his; he should have killed. The speech, presumably cooked up by his cute little speechwriter, the one who is driving home the J.F.K./M.L.K. oratory, is a fantastic read, great on paper. Mr. Obama will get many chances to try it out this week, and he'll surely knock it out of the park, but on M.L.K. Day the material was better than him. It came out truncated and choppy and didn't play. He was cold, probably. But the gum implied nervousness.
Is Barack Obama … shy?
He still didn't look up for it at the debate, when Hillary took her often-used confrontational debate body language to a ferocious new high. She used to do this just for fun in her last Senate race, against old what's-his-name: turning to face her opponent, leaning on the podium, giving a hot level stare. She looked like she was going to climb over a fence and maul him, and she rather did. "The viewers don't care" about these games, Obama posited in a ploy to get away, but that's so not true, not in the reality show age. Don't you love it? War? What war?
South Carolina is miserable. It couldn't be colder—the nighttime temperatures nearly tie the state's record—and that's all anyone talks about. (Now it will hit the 50's at last.) And everywhere you go there is a change jar on the counter on behalf of some 3-year-old who is dying of brain cancer. And the local cops would fit right in downtown Detroit; they couldn't be more tense and pushy with all these fancy presidential careerists around. The good news is that in South Carolina, cigarettes pay you to smoke them.
And this is the place to be as the world stock markets short out and sovereign wealth funds buy up everything. (Remember when everyone was upset that a big chunk of America's ports were being taken over from an English company by the owners of Dubai? That should look like nothing now.)
There's another great thing about being a Yankee here. I'm rich! More than half the households in the South Carolina, as of 2004, take in less than $40,000 a year.