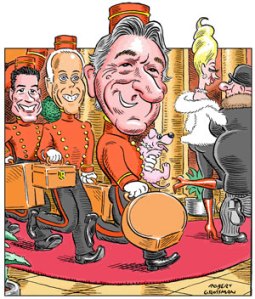 Actor Robert De Niro used to be just another famous guest in the world of swanky hotels.
Now, he's opening his own posh lodge in downtown Manhattan.
Standing seven stories high at the corner of Greenwich and North Moore streets, Mr. De Niro's roughly 75,000-square-foot Greenwich Hotel, which is scheduled to open this spring, will include all the world-class amenities that one might expect from a wealthy, two-time Oscar winner: Moroccan tiles, Tibetan rugs, French doors, Siberian oak floors—even a fancy Tuscan-style restaurant and chichi Shibui Spa.
Room rates will be just as extravagant, starting at $725 per night.
And people will probably pay it—if not for the stylish surroundings or celebrity cachet, then perhaps because every other decent place in town is either entirely booked or equally expensive.
Given the rising demand for lodgings, with tourism rebounding to record levels over the past few years, the annual average room rate in Manhattan has escalated more than 50 percent since 2003 to nearly $300 a night, according to the city's latest figures.
Mr. De Niro isn't the only A-list luminary looking to get in on the lucrative action.
Hip-hop mogul Shawn Carter, a.k.a. Jay-Z, perhaps foreshadowed his own foray into the business when he first unleashed the celebratory rap lyric "after the show it's the after party and after the party is the hotel lobby."
The Grammy-winning former president of Def Jam records and part-time party promoter announced this past December that he, too, is planning to build a new high-end hotel in Manhattan with the help of CB Developers.
The reported $66.4 million, 150,000-square-foot project, located on the site of an old warehouse and parking garage on West 22nd Street, will serve as the flagship for a whole new chain of luxury lodgings called J Hotels. "Everything is in a very developmental stage," noted Mr. Carter's publicist, who declined further comment.
Fashion designer Giorgio Armani, meanwhile, is searching for a chic spot to create a New York counterpart in the next few years to his opulent Armani Hotel & Residences in Dubai.
For Mr. Armani, who announced plans in 2005 to open at least seven luxury hotels within 10 years, it seemed only in keeping with a grander vision of his eponymous apparel label becoming a complete lifestyle brand.
As the designer previously explained in a statement, "Today, more than ever before fashion has expanded to encompass our way of life, not just how we dress, but where we live, which restaurants we eat at, where we holiday and which hotels we stay in."
Indeed, the hotel business, in particular, has become increasingly fashionable over the years.
Even the proprietors of many old, run-down Manhattan hostelries, including the Malibu on the Upper West Side and the Portland Square Hotel near Times Square, have lately undertaken major renovations and rebranding campaigns to keep up with the trendy boutique-hotel movement, which continues to raise the expectation level in terms of design and functionality far above the bare necessities of budget accommodations and standardized aesthetics of national chains.
Widely credited for pioneering the boutique model, hospitality guru Ian Schrager may be just as responsible for paving the way for the new celebrity hoteliers.
As part owner of notorious nightclub Studio 54, Mr. Schrager was already somewhat famous by the time he entered the hotel business in 1984. But after opening Manhattan's highly stylized Royalton Hotel, with its famous lobby designed by Philippe Starck, in addition to the Paramount and the Hudson hotels, among others, Mr. Schrager transcended the usually ephemeral influence of a mere liquor-industry impresario, becoming a bona fide tastemaker and trendsettter.
His iconic rock star persona set the standard for the next wave of hip hotel operators, including jet-setters André Balazs and Jason Pomeranc, each of whom run chic hotels both in Los Angeles and New York. And each has made a name for himself on the social circuit, although neither was very famous to begin with.