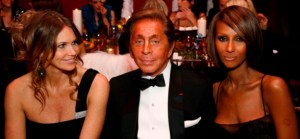 Valentino, considered one of the most influential designers of the late 20th century, waved good bye to the fashion industry for good yesterday. "The world of fashion has now been ruined," he told Rome's Il Messaggero newspaper this week. "I became rather bored of continuing in a world which doesn't say anything to me. There is little creativity and too much business." At the Rodin Museum in Paris, Uma Thurman, European royalty and New York socialites all turned out for his farewell bash and runway show. Valentino, whose couture house was bought by private equity firm Permira last year, is ranked alongside Giorgio Armani and Karl Lagerfeld as the last of the great designers from an era before fashion became a global, highly commercial industry.
"I am so sad, we're witnessing the end of an era of great Italian fashion couturiers. When he is gone there is no one to replace him," said Italian television celebrity Simona Ventura, blinking away tears.
Valentino Garavani, always known by only his first name, is replaced at his couture house by Alessandra Facchinetti, a former Gucci designer who is considered better suited to lead the group's expansion into new markets and product lines.
Just days before his final show, the group Valentino founded announced it was already making those inroads opening its first boutique in a hotel in Beijing to tap the fast-growing demand among Chinese shoppers for luxury goods.