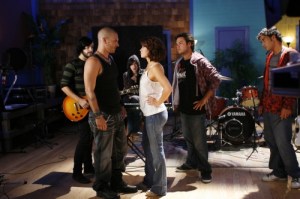 While Britney Spears was getting busy in court last fall, her ex-husband, Kevin Federline, was getting busy on the set of One Tree Hill.
We just received this picture, above, of Mr. Federline filming a scene for the CW show—which will feature the former backup dancer on a three-episode arc, beginning on Jan. 15, in which he plays a musician with a pension for super-worn jeans and wife-beaters. It also appears that Mr. Federline, 29, can moss a nasty Vin Diesel impression, if with slightly less-defined guns.
The following clip features the dancer-cum-rapper-cum-actor rockin' out as the lead singer for a fake band. What does he sound like? Let's just say we now know what it must be like to get water-boarded backstage at the Cornerstone Festival.