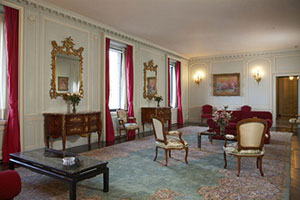 Does Park Avenue need a bigger apartment? Henry Kravis has an Iranian princess' old 26-room co-op at 625 Park; J. Crew CEO Millard Drexler has an 18-room place at 640; finance man Gordon Pattee has a 15-room penthouse triplex at 812 Park, now on the market for $36.5 million.
But 550 Park Avenue, the building once glamorously sued by Queen Elizabeth II over fees charged to Canadian diplomats, has a massive new listing: Carter-era Treasury Secretary W. Michael Blumenthal, 82, has put his ninth-floor apartment up for sale, bundled with his late next-door neighbor's larger co-op, for $24 million.
When the estate apartment and Mr. Blumenthal's are combined by the buyer, the spread, about 6,500 square feet, his broker said, will have 14 rooms—six bedrooms (four facing Park Avenue), six and a half bathrooms, two maid's rooms, a wet bar, five walk-in closets, and a $9,536 monthly maintenance fee.
Brown Harris Stevens' John Burger, the listing agent, also marketed the two units at 1060 Fifth Avenue that went to contract last year for $46 million—a co-op record, even though the units need to be combined by the buyer. Outside of the massive apartments in 740 Park, Mr. Burger said, Mr. Blumenthal's spread and its neighbor will together make for "the biggest apartment on Park Avenue."
Mr. Blumenthal's apartment once belonged to Vogue editor Diana Vreeland, who, in her words, aimed to make the place into "a garden, but a garden in hell." Some of her deep-red banquet cushions still remain. "We're not using them," Mr. Blumenthal said. "We'll be glad to bequeath them to the next owner if they want them."
He moved into the building in 1979, the year he left the Carter administration, but upgraded to this ninth floor co-op years later. In an interview, he spoke like a true octogenarian gentleman: "I think it's a very pleasant apartment … a very fine building, very well run, and we were very happy there. The only reason we decided to leave is we wanted more space"—but not as much space as his neighbor's place.
Mr. Burger, who was first brought in for the estate sale, said the combination will bring back architect J.E.R. Carpenter's white-glove plans for 550 Park from 1917. "We realized that this was once one very grand apartment, and with that in mind we approached the neighbor"—the ex-Treasury secretary—"and they thought this was a great time and great opportunity."