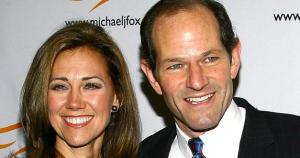 Page Six reports today that someone– they don't say who– is writing a book that will feature some incendiary details about Eliot Spitzer's involvement in a 2002 case involving the estate of ballet choreographer Martha Graham and her longtime manager/heir Ronald Protas. According to the item, Mr. Spitzer, who was state attorney general at the time, got involved in the case and flexed his muscle to insure that the Martha Graham Dance Center would prevail in the suit over Mr. Protas and win the rights to Graham's dances.
The book that will supposedly contain the dirt on Spitzer's role in the proceedings is being shopped to editors by the Marianne Strong Literary Agency. Media Mob caught up with Ms. Strong by phone this morning and asked her for some details.
Ms. Strong said only that the author is a lawyer "at a very distinguished Wall Street firm," and that he is a good friend of hers and Mr. Protas's. Ms. Strong, who was the society editor of the World Telegram during the 1950s and 60s, said she did not want to give out the lawyer's name because she feared retribution from Mr. Spitzer.
"He's a very vicious person," Ms. Strong said. "What he would do is go to the head of the firm and say, 'you gotta get rid of this guy.'"
How did the book make Page Six?
"I used to be a columnist myself and I have very strong friendship with [Page Six editor] Richard [Johnson], and Liz Smith is one of my oldest friends," Ms. Smith explained. "So once in a while when I want to get a little publicity for a book I pop it right in with one of them."
Ms. Strong said Mr. Johnson respected her wish to keep the name of the author anonymous, she said, because The Post knows all about how Mr. Spitzer operates. "They knew I was telling the truth," she said.
Reached via e-mail, Mr. Spitzer's spokesman Errol Cockfield declined to comment.