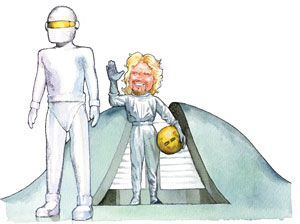 Remind us again why we aren't at Sundance, drowning our distasteful thoughts about representative democracy in clever, artsy films, fresh mountain air, gobs of free stuff and burly college dropouts who teach ski school? We're tiring of the army of skinny women in rubber wellies occupying our city streets and we feel a growing existential dread that the country may be faced with the grim and joyless prospect of a Romney-Clinton race this November. So in the meantime, we shall take comfort in fine dining, delicious-smelling Italians and dreams of space flight. Tonight the indefatigable James Beard Foundation hosts a reading by Kathleen Flinn, author of The Sharper Your Knife, the Less You Cry: Love, Laughter and Tears at the World's Most Famous Cooking School at the James Beard House, which Foundation president Susan Ungaro told us is aiming to recapture its onetime "salon" feel—after all, it is "the home where Mr. Beard lived and taught and cooked and wrote, and it was a place where the great culinary greats, from Julia Child to Jacques Pepin, would come and talk about the latest food news, trends, and do a lot of cooking." Of Ms. Flinn's book title, Ms. Ungaro explained: "The sharper the knife when you cut it, the less likely the oils from the onion will make you cry." Hmm, good to know in case we ever decide to take the plunge and buy that cutting board instead of just using last December's Vogue! Later, the Italian Trade Commission presents the "Life in I Style Icon Award" to former face-of-Lancome (and former David Lynch squeeze) Isabella Rossellini, for her "personal contribution to the promotion of Italian style throughout her career." (O.K., folks, let's just admit it! We've gotten to the point of making up reasons to give awards!). Expected attendees include elfin Alan Cumming, furrier Dennis Basso, actress Eva Amurri and several high-ranking, Aqua de Parma-drenched Italians. Finally, one Sir Richard Branson descends on the American Museum of Natural History to unveil his passenger spaceship, which will cost $20,000 to $200,000 per ticket, and on which he will begin running "test flights" this year. Who wants to be the first monkey?
[Reading at the James Beard House, 167 West 12th Street, 12 p.m., 212-255-8455, ext. 236; Italian Trade Commission, Esquire, Harper's Bazaar and Town & Country honor Isabella Rossellini, 300 West 57th Street, 44th Floor, 6:30 p.m., invite only; Virgin Galactic event, American Museum of Natural History, Central Park West at 79th Street, press conference 10 a.m., party 8 p.m., www.virgingalactic.com]
You are viewing a timeline of articles in the column, The Eight-Day Week. Go ahead and play with
the timeline and
discover a myriad of Eight-Day Week articles. You can zoom in to a narrow time
range or zoom out to a broad time range using the vertical accelerator
bar on the left and move forward and back in time using the horizontal
accelerator bar on the bottom. The Eight-Day Week timeline is a
discovery tool, offering a new way to search by time. Timeline
provided by viygo.com.