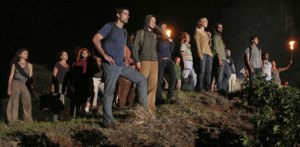 MONDAY
It's George Bush's final State of the Union (All Networks, 9 p.m.). Incidentally, the one year when the networks are scrambling for programming and therefore probably welcome the intrusion is the one year where no one could care less. The failing economy, Iraq, and his legacy will more than likely be on the agenda. Watch and wait for the presidential candidates to trip over themselves trying to respond first.
Speaking of wastes of time, it can't replace an actual new episode, but Gossip Girl Revealed (CW, 8 p.m.) should satisfy your weekly fix for the posh adolescents. In the show's new time slot, it promises plenty of bonus features—commentary, deleted scenes, profiles—and a re-airing of the pilot. Sadly, this is meant as an introduction to the uninitiated and harkens the beginning of repeats. Oh, they're too young to die!
Bonus: Hackensack! Livingston! Edison! Diners, Drive-Ins and Dives (FOOD, 10 p.m.), in what must have been its most daunting challenge to date, shows you were to grab a bite, if you dare, while traveling along the New Jersey Turnpike.
TUESDAY
Sure, there's American Idol (Fox, 8 p.m.), but if you're looking for a poor performance to enliven your spirits look no further than Rudy Giuliani's tonight while competing in the Florida Primary. His "firewall" is looking more like a deathtrap. Now, that's entertainment!
Gabriel Byrne follows in HBO's long tradition of shows built around therapy with In Treatment [9:30 p.m.]. It's on every night, which a different "client" taking up each half-hour episode. Tonight, it's Alex's (Blair Underwood) turn on the couch. He's a cocky Navy pilot who's had a "disastrous" mission in Iraq, but acts like nothing is wrong. Hold him, Gabriel, and tell him "It's not your fault." (See: Monday night.) That should work.
WEDNESDAY
It's a night of bad reality. (Isn't that every night? Ha!) Crowned (CW, 8 p.m.) finally crowns its "winners," while MTV's Making of the Band 4 (8 p.m.) kicks off. (Do they keep trying until they succeed? Because that is the only reasonable explanation for a fourth season.) There's Wife Swap (ABC, 8 p.m.) whose premise sounds like a bad Henny Youngman joke. (Take my wife …) And, of course, more Idol (Fox, 8 p.m.) But all of these pales in comparison to a repeat of the Lost season three finale (ABC, 9 p.m.), which paves the way for …
THURSDAY
… the beginning of the fourth season! The big night commences with Lost: Past, Present and Future, a look back at the first three seasons. What it can't really tell you is the future of the show, since not even the writers know that, as they are on strike. So far, there are eight episodes in the can. Before the strike, the plan was to have three more sixteen-episode seasons, with the finale slated for 2010. In order to meet that schedule, there is a chance that this season will be abbreviated. But if—and it's a big if—the strike ends in the next couple of weeks, the network is hopeful they can run it in its entirety. Here's hoping! Nonetheless, tonight's episode (9 p.m.) offers a respite, however small, from the ravages and degradations of the strike. Finally, it will feel as if 2008, as far as TV is concerned, has finally begun. Take that Idol.
FRIDAY
NBC has put together a nice little Friday night with the game show 1 vs. 100 (8 p.m.), Friday Night Lights (9 p.m.), and Las Vegas (10 p.m.), all new. At the moment, there is little competition, with the rest of the networks' shows in repeats. But this idyll won't last for long. CBS is set to launch primetime episodes of The Price Is Right starting Feb. 22. Who they're going to get to "come on down" is another story.