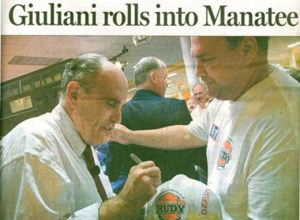 A new CNN/Opinion Research national poll shows how much the presidential race has changed as the first couple of contests shape the debate. John McCain now leads the Republican field with 34 percent, trailed by Mike Huckabee at 21 percent and Rudy Giuliani at 18 percent. The landscape for Democrats is a little more stable, with Hillary Clinton leading Barack Obama 49-36.
The poll comes out as Stephen Hayes, writing in the Weekly Standard, officially calls McCain the front-runner (again). Meanwhile, Howard Fineman writes in Newsweek that while Rudy Giuliani may still be able to find a home in Florida, he has yet to find a place in the ideological landscape of the G.O.P.
The other side of Huckabee's rise is, of course, that he may have been unprepared both policy-wise and politically for the examination that comes with drawing closer to the top. Yesterday an article in the Washington Post charged that he lifted much of his immigration policy from another source, without the proper attribution.
On the Democratic side, the battle between the Clinton and Obama campaigns over language and race continues. An internal memo from the Obama team drawing attention to public comments that may be interpreted as racially charged includes some from the Clintons. And Clinton says Obama is "deliberately distorting" those comments. Dick Durbin thinks Bill Clinton is getting "too personal" in attacking Obama, but Ryan Lizza doesn't think that the racial politics will help the Illinois Senator, either.
Republicans were focused on both Michigan and South Carolina this weekend, with those primaries falling in the next week.
A bunch of Michigan polls conflict each other over whether McCain or Romney is more likely to win, while both campaigns are spending about the same amount of money in the state.
On the offensive, the Romney family took a sentimental trip to the Michigan state capitol building, with press, and Romney attacked McCain (and "Washington") over the problems with the Michigan economy.
In South Carolina, Fred Thompson is back on the air, thanks to his debate performance and subsequent fund-raising success.
Huckabee, meanwhile, is rushing to his religious supporters, literally deliverring a sermon at a church in the Palmetto State this morning. He has been telling evangelicals that if they vote for him, they will finally get a chance to have a real voice in the upper eschalons of the Republican party, and David Kirkpatrick's article in the New York Times this weekend seems to say that they believe him.
But one of South Carolina's most influential newspapers, The State, endorsed McCain this weekend.
Also, in case you missed it, the Republican governor of South Carolina wrote a pro-Obama op-ed for the same newspaper.
And John Edwards doesn't want to be counted out in his home state yet.
Democrats are mostly focused on Nevada right now, in preperation for the caucus this coming Saturday. The biggest story out of the Silver State this weekend is that a teachers union is bringing a lawsuit to stop the caucus from being held at locations on the Vegas strip. They back Clinton, and caucus locations on the strip would mainly effect members of the culinary union that endorsed Obama. Ben thinks it says a lot about the caucus system. Josh Marshall thinks there are echoes of voter suppression tactics, but notes that not everyone agrees.
The Las Vegas Sun observes that online bookies show Clinton going all the way to the White House.
Florida is still the only state in which Giuliani has any kind of foothold, and it's slipping: a new Survey USA polls has McCain leading Giuliani 27-19.
While in the state this weekend the former mayor said, "Fear not, be strong and of good courage," (Joshua 12:25) while visiting an Hispanic megachurch.
Both the candidates and their backers are starting to look at the February 5 primary state. Former Senator and bipartisan-panel participant Gary Hart endorsed Obama, as did Nebraska Senator Bill Nelson, a conservative Democrat. Freshman Senator Claire McCaskill gave the Illinois Senator her support at a press conference, just before Obama said that Clinton is rewriting history.
Some guy in California wants to marry Hillary, which she discovered while visiting over the weekend.
And although the ads aren't new, Obama is on the air now in California and Arizona.
New York's primary could be the most competitive since Bill Clinton ran in 1992, says Sam Roberts, as many small organizations like the Staten Island African American Political Association endorse Obama.
Back in New Hampshire, Ron Paul supporters harass a town clerk over a mistake in a vote-count, while requests from Dennis Kucinich and Paul are leading to a recount of last week's primary vote.
Giuliani seems to be losing alot of support in New York, but at least he won a straw poll among Albany Republicans.
David Seifman points out that Bloomberg has spent a lot of money considering a presidential run, and won't have to disclose it if he does. The New York Post, meanwhile, is outraged that Bloomberg seems totally fine with a Con Ed rate hike, and the Daily News points out the mayor isn't saying that there won't be a property tax increase.
He does, however, agree with Arizona Governor (and Obama backer) Janet Napolitano on immigration.
Elsewhere in New York, in what Norman Oder calls a "significant setback" for opponents of Atlantic Yards, a judge dismissed a challenge to the environmental review of the project.
Bill Thompson still has more money than Anthony Weiner for the mayor's race, but Weiner had a big burst of fund-raising in the last six months.
Eliot Spitzer is sending state troopers to high-crime areas in the state, including Rochester.
Douglas Feiden wonders who in the Dolan family isn't on the payroll at Madison Square Garden.
And pictured above is the front page of the Brandenton (Florida) Herald, trumpeting Giuliani's visit this weekend.