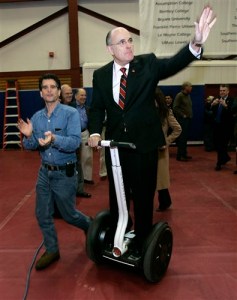 A Time Magazine article released yesterday summed up the dynamics of the Democratic field's frenetic weekend in New Hampshire.
Karen Tumulty reported that the Clinton campaign was "shaken" by Obama's victory in Iowa and cited internal strife about pollster Mark Penn's strategy. Penn denied the charge to reporters, but seemed a little nervous while doing so.
At the Democratic Party's 100 Club dinner, Clinton was booed twice, while the audience cheered Obama. (Each candidate was also accompanied by a theme song of their choice.)
Michael Crowley thinks a it would be a good strategy for the Clinton campaign would be to just admit they lost Iowa, instead of insulting the caucuses, attacking Obama and looking defensive.
Clinton seems a bit out of control, Obama seems unruffled, and John Edwards is trying to be both the underdog and the victor.
Bill Clinton "looked and certainly sounded Saturday like a politician whose legacy is on the line," reports Shailagh Murray.
Kate Davidson has a rundown of Saturday's negative campaigning, mainly from Clinton against Obama, and also from Mitt Romney against John McCain.
Mike Huckabee (with Chuck Norris in tow) aimed to communicate to voters that he is the most fun candidate, which might be part of the reason that Ana Marie Cox thinks "most of his [Huckabee's] policies sound less like policies and more like game shows."
Rudy Giuliani aimed low for his events, finally rode that Segway (see photo), and said of choosing his cabinet, "You might pick a secretary of state and deputy secretary and a chief economic advisor who have something different views on lowering taxes or when to do…."
McCain continued to enjoy strong shows of support, while Mitt Romney won the Wyoming caucus and declared, "This is just the beginning."
But Romney had a tough go in last night's debate, which was largely reported as a "pile on", with attacks coming from nearly all the other candidates.
Josh Marshall writes simply, "I fear Mitt has fallen and cannot get up." But Noam Schieber says all the attacks were too much, and while pundits will certainly declare it a loss for Romney, voters may see things differently.
Seemingly a bit deflated by the debate's hostilities, Romney told George Stephanopoulos today that he knows he's been pegged as a flip-flopper.
Hillary Clinton got angry when presented with a united attack from Edwards and Obama at the Democratic debate, which was not Obama's best, according to Steve Kornacki.
However, Chris Cizilli says "there seems little question that the mantle of frontrunner has passed from Clinton to Obama over the last week."
Mark Ambinder writes, "I think Clinton handled the substance of her offensive fairly well," but Ana Marie Cox wonders if this will "be the moment we will look back on and say 'that's when she lost.'"
Regarding the substance of the debate, Mark Halperin does some investigation and finds that the guy Obama denied is a lobbyist does, in fact, appear to be a lobbyist.
Ben reports from the spin room after the debate.
Recalling the weekend in rhetoric, Michael Kinsley ponders the (increasingly frequent) use of the term "change" in the campaigns, and writes, "If all you want is happy changes, you really don't want change at all."
In other debate news, the New Hampshire Republican Party has cut ties with the Fox Republican debate tonight because Fox wouldn't allow several second-tier candidates.
It was also a weekend of many, many polls, some less meaningful than others, as campaigns and journalists continue to scour the results for the Obama "bounce." Both CNN and the Concord Monitor released polls yesterday showing Clinton and Obama "dead even," but the results need some historical context. An MSNBC/Mason-Dixon poll puts Obama eight points ahead of Clinton, but the data used was collected before the end of the Iowa caucus. Somewhat similarly, a Rasmussen tracking poll shows Obama 12 points ahead of Clinton, but using data collected in only one day.
In major endorsements, Bill Bradley is backing Obama, as is the governor of Wisonsin.
James Dobson didn't endorse Mike Huckabee, but he didn't endorse anyone else either.
And the Edwards campaign is trumpeting a colorful endorsement from the Boston Herald.
Perhaps hoping some Huckabee magic will rub off on him, Ron Paul lands the primary eve Jay Leno appearance, just as Huckabee did before the Iowa caucus.
The Clinton campaign is looking ahead to other primaries, and dispatched Jon Corzine to Nevada this weekend.
Talk of Bloomberg '08 continued during the days leading up to the conference in Oklahoma, but David Boren says the chance of an in independent presidential bid in 2008 is less than 50 percent.
In the New York Times, Nick Confessore looks at Bloomberg's positions and notes that he's closer to Democrats on most. Doug Muzzio says, "I don't see the product differentiation, except for the $4 billion bank account and the aura of the philosopher-king."
Outside of presidential politics, Eliot Spitzer released his government report card in anticipation of his state-of-the-state address, and Liz was kind enough read at least some of the 266 pages so you don't have to.
Also:
The federal Interior Secretary put a stop to two casinos that were to be built in the Catskills.
New Jersey has officially prohibited its state pension fund from making investments in entities with any link to Iran.
And Bloomberg says kids can't have cellphones in schools because the city would have to pay protect them from being stolen.