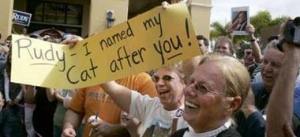 Barack Obama won a decisive victory in the South Carolina Democratic primary yesterday, with a margin that was larger than expected. In fact, according to one analysis, it looks like most pollsters were farther off about South Carolina than they were about New Hampshire.
In addition, exit polls show that Bill Clinton's aggressive campaigning appears to have hurt, rather than helped, Hillary in South Carolina. And he's drawing a lot criticism for noting that Jesse Jackson also won the South Carolina primary, twice.
John Riley notes the triumphalist tone in Obama's victory bears some resemblance to the way the Clinton campaign has won, while Ben writes about the Obama campaign's efforts to send the message that his big win was not about race.
The next primary, Tuesday's contest in Florida, is shaping up to be a bigger deal for Democrats than it was supposed to be. In addition to the fight between the Clinton and Obama campaigns over the pledge not to woo Floridian voters, it looks like the state's Democrats are already voting in much larger numbers than expected.
The Miami Herald reported this weekend, in echoes of South Carolina, that black Democrats in Florida are split between Obama and Clinton. Meanwhile, yesterday Clinton surrogates rallied in place of the candidate. Today, Hillary arrived in the state for a private event, which does not technically violate the pledge. She also said she will be in Florida on primary night.
The biggest news from the Florida Republican primary is that the popular Governor Charlie Crist, who Rudy Giuliani courted for an endorsement, gave his endorsement to John McCain and is going to be stumping with the Senator as well, although Crist demurred when asked about his potential as a vice-presidential candidate.
Also in Florida, McCain and Mitt Romney are clashing over statements Romney made about the Iraq War, while Huckabee is still standing up for McCain and Fred Thompson's former spokesman is leading a boycott of Chuck Norris-related products.
Federalist Society co-founder and former Thompson adviser David McIntosh joins Romney's campaign. Jonathan Martin says Romney's campaign is pulling a Bush 2000 trick by playing up McCain's years in Washington to make him seem like an insider.
Giuliani says he's happy to be the underdog in Florida now as the press searches for a good explaination of what has happened to the Giuliani campaign. In the Washington Post, Michael Leahy suggested that Giuliani has missed numerous opportunities to win over individual voters in Florida. A Queens blogger suggests it was Dennis Gallagher's endorsement that began the Giuliani decline.
Gail Collins writes, "When a presidential candidate starts confiding to his audience that he could give his speech in his sleep, as Rudy has been doing, it may be time to consider another line of work."

There was more bad news for the former mayor yesterday when the New York Times revealed a 1998 memo in which police experts told Giuliani not to put the city's emergency command center in the World Trade Center. And then today the New York Post exposed another longtime Giuliani supporter who's in trouble for taxes, and voting in the Bronx, while possibly living in Manhattan.

But Giuliani still told Floridians this weekend that, with him, they can have their cake and eat it. His final argument wil air right before 60 Minutes in Florida tomorrow night.
Outside of Florida, many of the nation's major political players and major newspapers are looking towards February 5.
Caroline Kennedy endorsed Obama in a New York Times op-ed today, under the headline "A President Like My Father." Ted Kennedy will endorse him tomorrow.
The St. Louis Dispatch endorsed both Obama and McCain. The same pair got endorsements from The Chicago Tribune and the Philadelphia Enquirer. Obama also gets the San Francisco Chronicle.
Clinton picked up endorsements from The Hartford Courant, The Salt Lake City Tribune, and the Montgomery Advertiser, and also took in a hug
e show of support from unions in Connecticut.
McCain gets the somewhat dubious endorsement of former Montana Senator Conrad Burns (who has been linked to Jack Abramoff), and Liz Cheney endorsed Romney.
In worse news for Giuliani, two N.Y.P.D. groups, comprised of more than 11,000 current and former members, endorsed McCain.
Meanwhile, Two overlapping PACs that support Obama are operating in San Francisco, but the Obama campaign did ask the groups to stop their efforts last month.
Bob Novak claims Obama is looking at Edwards as a possible attorney general.
Michael Isikoff and Mark Hosenball take a look at Bill Clinton's efforts to divest himself of some of his many friends, so as to prevent conflinct of interest should Hillary become president. For better or worse, there will be no political advertising during the Superbowl.
In New York State, Dan Maffei, a Democratic candidate for Jim Walsh's upstate congressional sheet has been added to the D.C.C.C.'s "Red to Blue" program.
Robert Harding clarifies Darrell Aubertine's position on the drivers' license plan, which his opponent is trying to use against him in the special election in Senate District 48.
Ray Rivera has more on that Board of Elections fight Azi reported on late last week.
Also, Anthony Weiner wants to do more to keep your sushi safe.
And the New York Times editorial board says of Michael Bloomberg's new budget, "we take comfort in knowing that Mr. Bloomberg has prepared New York to weather bad times."