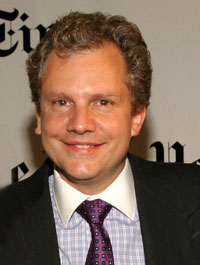 Note: Due to an editing error, an unfinished version of this story was published on our site this morning. This is the correct, final version of the story.
Last summer, when The New York Times announced that it had donated its archives to the New York Public Library, publisher Arthur Sulzberger Jr. said in a press release, "We are delighted that the private New York Times archives will become part of the public repository of history."
At least eventually it will. In a previously undisclosed agreement, The Times and the New York Public Library struck a deal whereby the personal papers of Arthur Ochs "Punch" Sulzberger and his son, the current publisher Arthur Sulzberger Jr., will be kept private for decades; Punch's would be locked away until 2035, and Mr. Sulzberger's until 2057, when he'd turn 106.
"The papers are sealed to protect third-party privacy," said Times spokeswoman Abbe Serphos.
"Whenever any organization, person or family donates materials to us, they often want more recent materials to be restricted for a period of time," said Gayle Snible, spokeswoman for the library. "We're willing to make this concession because when it's open, it will be completely open to everyone, since it will be housed at a public research institution."
Ms. Serphos said that the material may or may not include Mr. Sulzberger's emails, however.
The vast majority of The Times' archives—staff memos, the private letters of every other publisher—will be open immediately. It's not clear when the library's archivists would be finished indexing all the Times material, but the library expects to start making material available in March.