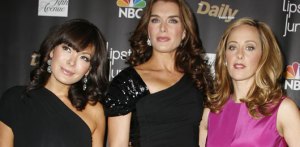 BRYANT PARK, FRONT STEPS, 8:00 A.M.—A few minutes before some chilly spittle started to fall, IMG Fashion senior VP Fern Mallis, Mercedes-Benz VP of marketing Stephen Cannon, writer Candace Bushnell, and Lipstick Jungle co-stars Brooke Shields, Kim Raver and Lindsay Price huddled together and cut a red ribbon, signifying the official beginning of fashion week.
Draped in a blood-red cashmere cape, a beaming Ms. Mallis, standing tall before the main tent and its questionable Caesarian theme, appeared before the crowd of weary journalists and giraffing onlookers like a mighty torch, sent down from the fashion gods on high. Hark! Her oversized ceremonial scissors, which Ms. Shields also got to clutch, blessing, with a single snip, all tony threads and the stylish heads who weave them.
"We built a temple of fashion!" Ms. Mallis told the Daily Transom this week, adding: "The tent looks like a fabulous Greco-Roman temple because all the designers are gods. It's the marketplace where everything happens, and it's very cool."
Despite any of the designers' apparent divine qualities, she does seem to realize that even Marc Jacobs, almighty, cannot prevent some things. Ms. Mallis' worst fear this week?
"Having a blizzard or a weather impediment."