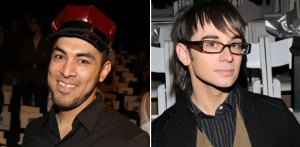 This morning, a few minutes before the Project Runway show got under way, several alums of the series were mingling on the plastic-covered catwalk at the far end of the tent. In the midst of all the anticipatory mayhem, we caught up with Ricky Lizalde, the last designer to be auf-wiedersehned from the show.
Mr. Lizalde, 35, whose considerable background in lingerie design probably kept him on the show for longer than most (including he) expected, came across like, as he put it, "a big crybaby." But that stigma, he insisted, can be chalked up to the magic of sneaky editing.
"I'm not the kind of person that I shake your hand and all of a sudden I start crying," he said, wearing his trademark shiny train-conductor hat. "So, for me, if you were to know the back story"—he paused, taking in a deep, shaky breath and rolling his glistening eyeballs skyward—"where the tears came from … it's a whole different story," he said, apparently trying to dismiss the topic with a few wags of his hand.
After moving on to greener topical pastures, Mr. Lizalde, who was standing next to fellow season-four eliminee Carmen Webber, was game to dish on the final five designers. "If I had to predict, I'm rooting for Rami [Kashou] and Jillian [Lewis]," he said.
Asked why he wasn't rooting for Christian Siriano, the sassy, über-confident crowd pleaser and onetime Alexander McQueen protégé, Mr. Lizalde covered his mouth and chuckled mischievously. "I think there needs to be some more growth with that. We didn't talk much, let's just say that," he said of their rocky relationship, before adding: "He's 21! That's all I have to say. I know that when I was 21, people, you know, they probably didn't want to talk to me." With that bon mot, Ms. Webber and an unidentified man who had just joined the gossip circle, nearly collapsed in stitches.
"He's just now legal!" Ms. Webber contributed with a shout.
Mr. Siriano's age may have been an issue for some, but Jay McCarroll, the 33-year-old winner of Project Runway's first season, apparently doesn't mind a little pupilage, however lawful. "Sex appeal! That's about all," Mr. McCarroll, who has been blogging for Elle.com, said of the young designer's greatest strength.
So, then, he's not too immature to take home top honors?
"No! We're all immature," the colorful bandbox devotee, who said he will launch a fashion line through QVC this summer, told us. "I'm immature and I'm 33. I'm an asshole and immature."