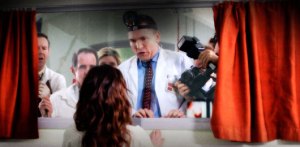 PENELOPE
Running Time 102 minutes
Written by Leslie Caveny
Directed by Mark Palansky
Starring Christina Ricci, Catherine O'Hara, Peter Dinklage and James McEvoy
Penelope is another first feature, directed by Mark Palansky, produced by Reese Witherspoon and starring Christina Ricci as a fairy-tale heroine plagued by an ancient witch's curse: She was born with a pig snout. As romantic fables go, this one may go faster than an oink, but you can't say it lacks imagination. This is how it goes: Centuries ago, a witch proclaimed that the next girl born to the aristocratic Wilhern family would have a porcine nose. Generations pass, until a new Wilhern family (Catherine O'Hara and Richard E. Grant) lose the sorcery lottery, and their otherwise lovely daughter Penelope makes Miss Piggy look like Bardot. After the trashy London tabloids, led by a ferocious cub reporter named Lemon (Peter Dinklage), print a scary photo of the sweet girl, her parents lock her away in a beautiful, isolated mansion. The curse can be lifted, it is said, if Penelope married a man of her own class, but despite their enormous wealth, her parents cannot find a suitor. Enter Max (played by Atonement's James McEvoy)—a blue blood addicted to gambling, with a sad heart and a mischievous arrogance. He has a dastardly ulterior motive for winning over the gullible and desperate Penelope, but to everyone's surprise they become a friendly odd couple, and in the film's second half, another unlikely confidante and morale booster materializes in the form of a tough-as-nails delivery girl named Annie, played with riotous pluck by producer Reese Witherspoon herself. Penelope is on her way.
For a film that is basically about a hip, New Wave fairy princess, Penelope has both old-fashioned charm and a freshly modern approach to the subject of media manipulation and celebrity culture. The biggest surprise is Christina Ricci, whose portrayal of a shy, insecure and awkward ugly duckling goes against her familiar hard, swaggering image. Not just your everyday pig in a poke, if you ask me.