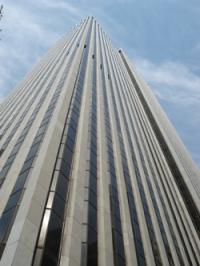 Embattled landlord Harry Macklowe has closed in on an extension to repay billions in loans he took last February to buy seven Manhattan office buildings. Jennifer S. Forsyth reports in the Wall Street Journal this morning that Mr. Macklowe has neared an agreement with lender Deutsche Bank to turn over control of the buildings in exchange for a six- to 12-month extension.
Deutsche had sold some of the debt to smaller lenders, including Vornado Realty Trust, which had refused to go along with the extension plan. Apparently, Steve Roth's Vornado has come onboard and the plan is moving forward.
Mr. Macklowe also took a personally guaranteed loan of $1.2 billion from Fortress Investment Group for last February's deal. That loan has grown to $1.4 billion with interest, but Mr. Macklowe reached an extension with Fortress, too.
From the Journal:
The extensions with Fortress and now the Deutsche Bank group represent a success of sorts for Mr. Macklowe who has been maneuvering through one of the toughest periods in his four decades as a commercial real-estate investor. While he is being forced to give up many of his properties, he is avoiding foreclosure proceedings and possibly lengthy court battles for now.
Meanwhile, Mr. Macklowe's GM Building remains up for sale. My colleague Eliot Brown has the skinny in today's Observer on the second round of bidding for that iconic tower.