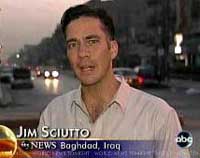 Yesterday, Long Island University announced the 14 winners of the annual George Polk Awards for excellency in journalism.
Among the winners, ABC News received the award for television reporting for work done by Senior Correspondent Jim Sciutto, producer Angus Hines, and field producer Tom Murphy on a series of reports called "Myanmar Undercover."
From ABC's press release:
The ABC News team was recognized for "Myanmar Undercover," a series of reports on "World News with Charles Gibson" they filed from inside the repressive country – both during the regime's brutal crackdown in the fall and secretly several weeks later. Foreign reporters are now banned in Myanmar, so on their return trip, Sciutto and team posed as tourists and worked undercover. They filmed their reports surreptitiously on digital cameras and cell phones, and evaded police by conducting interviews in moving taxis and filming on the sly. They spoke to monks, dissidents, and released prisoners and what they found was a rare and frightening view of a modern-day police state.