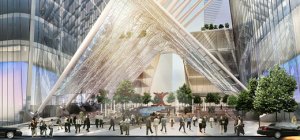 Revised bids for the West Side rail yards were due today, and Brookfield Properties did not submit a response, leaving four of the city's biggest developers in a battle for control of the 26-acre site west of Pennsylvania Station.
The Metropolitan Transportation Authority, which owns the site, put out a statement a few minutes ago saying that the agency had received four revised proposals, with no bid from Brookfield. The timeline, which puts selection of a developer in April, remains the same, the MTA said.
Still standing after undoubtedly millions in expenses on the bid are Tishman Speyer, The Related Companies, Extell Development, and a joint venture of The Durst Organization and Vornado Realty Trust.
Brookfield spokeswoman Melissa Coley told us that the company indeed did not submit a revision to its original proposal, though it was committed to the development of the West Side. She also seemed to be leaving the door open for later involvement at the site, saying, "We hope to continue to have a dialogue with the MTA and the city."
Brookfield also is planning a 5 million-square-foot development over rail yards a block to the east, with construction to start on a platform this summer. The company released renderings last week.
Brookfield, like Extell, did not have an anchor tenant in hand, a factor that likely would have made it a bit harder to persuade the MTA to give it the green light.
The firm received plaudits from many in the design community for ignoring the design guidelines for the site and installing a partial street grid in its plan.