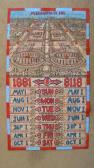 Last weekend, 34 galleries from around the world set up booths in the Puck Building for Sanford Smith's 16th Annual Outsider Art Fair.
Most of the art shown was not very good, but it is instructive to see so much of it together. The viewer learns that naivete and obsession are not magic bullets: for every Bill Traylor, whose simple drawings of animals are as elegant and beautiful as the greatest cave paintings, there are dozens of artists whose work is not apparently but actually naive.
The viewer is also reminded that "Outsider Art" is no longer simply a catch-all term for art produced by the ill and excluded, but a collection of discrete esthetic movements. It has its palettes—the Childish, in which bright, unmixed colors clash and burn; the Old Timey, full of muddy reds and browns; and the Pedophilic, in which eggshell pastels, most notably used by Henry Darger, subtly and ineffably signal maladjustment. And Outsider Art has its stars, too; most of them, like blues singers in the 1960's, only discovered when they were old or already dead.
One of these stars—in this case, happily, alive and in his 40's—is George Widener, a savant from Ohio who falls somewhere along the autism spectrum. He produces dense, intricate drawings, often on unfolded paper napkins, that are dominated by numbers. A cross section of the Titanic is surrounded by tiny statistics about the ship; a futuristic city sits over a diagram of dates indicating, among other things, that 05/09/2049 and 09/05/9402 will both be Sundays. His drawings achieve an extraordinary richness and depth of texture through the simple accumulation of lines. They also demonstrate, more clearly than most of the art on display, the subjectivity of an artist's approach to ideas.
Mr. Widener is obsessed with numbers and dates, with their quantities and relationships, and this obsession drives his work and forms its basic material; but while the work produced, the art, is inarguably substantial, the ideas themselves are meaningless.
The strange particularity of these meaningless ideas in themselves would be barriers to communication, but in fact they communicate something universal: It becomes difficult, looking at his complex, intensely-felt drawings, to believe that one's own way of ordering the world makes any more sense than his does.
Another outsider star is Martin Ramirez, who died in 1963. A Mexican who left his family in 1925 to look for work, he ended up spending more than 30 years in California mental hospitals. There was a major retrospective of Ramirez' work at the American Folk Art Museum in New York last year; the exhibition traveled and was widely written about. On display at the fair were drawings of doorways and abstract waves, undulating lines edged in pale color.
Like Mr. Widener's work—with which it has little else in common—Ramirez' work, in the context of an Outsider Art Fair, seems like a demonstration in extremis of an unpleasant fact about art.
As Mr. Widener's art demonstrates the artist's solipsistic lunacy, Ramirez' demonstrates his isolation. Confused, ill, unable to speak English, Ramirez made beautiful drawings that, however much they might be appreciated and admired, could never effect an accommodation between the artist himself and the world.
Of course it is not the Ricco/Maresca Gallery's fault that Ramirez could not sell his drawings for $165,000 when he was alive; it is not the American Folk Art Museum's fault that Ramirez had to draw on paper bags until one or two psychiatrists began giving him supplies; it is certainly no one's fault that he was schizophrenic. On the contrary, the museum, the gallery, and all the reviewers should get credit for bringing to his work the attention it deserves. But there remains something ghoulish about gathering together to admire the physical remnants of such a lonely, difficult life.
In fact, this problem is hardly particular to Ramirez; it is the problem with Outsider Art as an organizing theme. So long as the art was not being treated as such, the idea of outsider art was necessary—in the same way that Eric Clapton and the Rolling Stones had to start covering old blues songs so that Mississippi Fred McDowell could stop working at a gas station. But once it has been established that an untrained artist in the country, or a schizophrenic in a hospital, or a working-man amateur, is as capable of making great art as anyone else—which is to say, sometimes, but not very often—why should they continue to be grouped together? Only because their nominal exclusion from the mainstream art world serves, within that world, as a useful marketing hook. Clearly it does; but even as it promotes and legitimizes the work, it limits it to the circumstances of its creation, making it artifact, and so, not quite art.