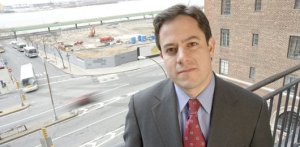 Sheldon Solow has made a lot of concessions to get the City Council to green-light his massive mixed-use development covering almost 10 acres along the East River, but it looks like he will have to overcome a few more hurdles before the plans are approved.
At a public hearing before a City Council zoning subcommittee this afternooon in City Hall, Mr. Solow's representatives defended their application to build six residential buildings and a commercial office tower, while public officials stressed repeatedly that the project had yet to be approved. (Mr. Solow did not attend the hearing.)
Nonetheless, Mr. Solow's revised proposal seemed to address some, if not all, of the Murray Hill residents' concerns. He has offered to scale back the sizes of some of the buildings, and he has tried to allay fears that the towers would overshadow the United Nations Secretariat to the north. His representatives displayed renderings that showed the buildings not interfering with the UN building.
City Councilman Daniel Garodnick, who represents the area, said that Mr. Solow had reduced building heights before plans were certified earlier by the Department of Buildings . Still: "You took the height off the top and added another building," Mr. Garodnick said.
Mr. Solow's representatives also deflected criticism that the buildings would cast a shadow over the parks in nearby Tudor City, consulting various shadow studies.
While Mr. Garodnick congratulated the representatives on their open-space plan, he said they would have to "continue the conversation" about ensuring that parks remain public space in perpetuity.
Half of Mr. Solow's nearly 10 acres will be converted into green public space; and he's asking the city for an easement so that the southern site at 35th Street and First Avenue can eventually be connected to the former Con Edison plant when the FDR Drive is reconstructed. Initial plans for a medical facility were scrapped in favor of an elementary school, and over 668 units of affordable housing will be built. Mr. Solow modified retail plans to allow for a large supermarket.
But the Enviromental Impact Statement said the project would create congestion problems all the way up to Queens. Mr. Solow's team had no solutions to offer when pressed by Mr. Garodnick, but assured the hearing that the office building is only responsible for one-third of all the traffic generated by the development.
"We are in the backyard of the UN so this area is already a mess for weeks of the year when diplomats are in town," Mr. Garodnick said, before concluding that solving any traffic problem would be another conversation for the future.
The Council must vote on the zoning changes for the project by mid-March.